In the wake of the current economic recession, hotel RevPAR levels across major markets in the U.S. are down somewhere between 15% and 35% from recent peak levels—corporations continue to downsize and cut travel budgets and consumers have noticeably curtailed retail and other discretionary spending. Resorts have been one of the hardest-hit sectors within the lodging industry, as corporations shy away from high-profile resorts for their corporate retreats, incentive travel, and other corporate events in the aftermath of the American International Group (AIG) scandal, and leisure travelers scale down vacations and reduce their ancillary spending in coping with record unemployment, job uncertainty, a depressed housing market, and an extended economic recession.

The recent decline in RevPAR, which in many markets is attributable to a combination of both decreased occupancy and average rate levels, has directly impacted top-line revenues, eroding the better part of a property's profitability. However, not all resorts have fared equally in the current challenging operating environment. Those resorts that rely solely on rooms revenue and other ancillary operating departments that are typically found in resort properties, such as multiple food and beverage outlets, spas, and golf courses, have experienced dramatic reductions in revenue and profitability. Revenue levels through these ancillary operating departments declined commensurately with lower occupancy levels, as departmental revenues are directly correlated with guest volume. However, mixed-use resorts that have the benefit of a relatively stable source of income, such as rental revenue, experienced less volatility in revenues than their counterparts that lack these components. Marinas are one of the premier sources of stable income for a mixed-use resort, that operates relatively independent of a resort property's guest volume and hotel demand, and essentially generate a steady base of revenue primarily from slip rentals.

To illustrate how a successful marina operation can benefit a resort property, we have reviewed the following operating data from a mixed-use coastal resort located in California. The subject of this analysis is a small 150-200-room resort property offering a 150-200-slip marina on an oceanfront location. The first table compares the resort's operating performance over the current economic downturn. The second table offers an identical comparison, but without the marina operation.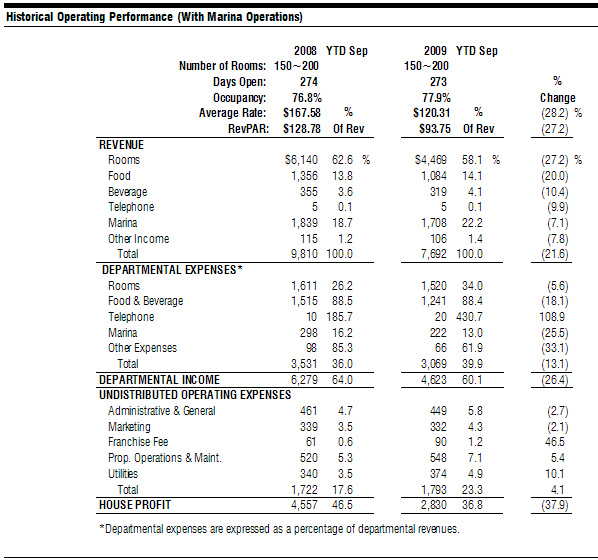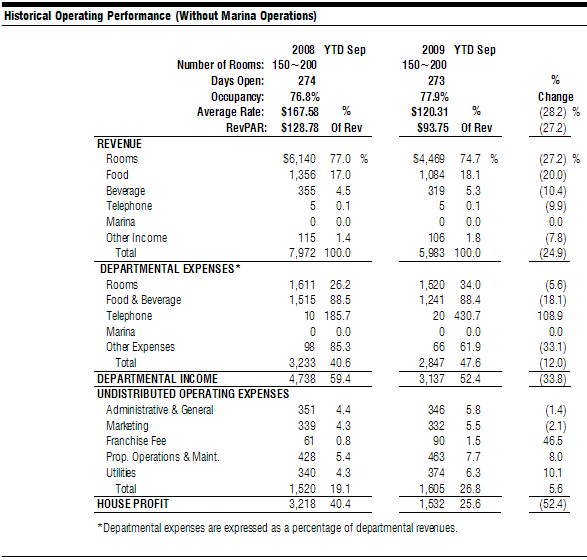 In the first table, the subject's total revenue declined by 21.6%, mostly attributable to the 27.2% decline in rooms revenue—which was a direct result of the 28.2% decrease in average rate over this period. The subject property's more recent operating data is indicative of the aggressive rate discounting strategies that many resort properties are employing to help sustain occupancy levels and remain operating during this challenging operating period. Although property management has been diligent in reviewing and reducing operating expenses where possible, the decline in revenue resulted in a 26.4% decrease in departmental income and a 37.9% decrease in house profit levels.

In the second table, the same property's operating performance is reviewed, with the exception of the marina operations. Marina revenues and expenses have been deducted from the operating statements, and downward adjustments were made to some of the undistributed operating expenses to account for the lack of marina operations. Based on our discussions with numerous marina operators, marinas typically generate high profit margins due to their relatively low operating expenses. The largest marina-related expenses are typically labor, which is usually reported as departmental expense; management oversight; dock maintenance; and utilities, which are typically charged back to the renters. Marketing expense associated with marina operations is generally very modest, due to the high demand for boat slips. Although administrative and general expense for marinas can vary widely depending on the size of the operation and the amenities provided, expense levels generally range between 3% and 7% of marina revenue, while maintenance expense typically ranges between 3% and 6% of marina revenues. For the purposes of this analysis, we have adjusted the subject's administrative and general expense downwards by 6% of marina revenue, and property operations and maintenance expense downwards by 6% of marina revenue, for each respective year.

Without the marina operation, the decline in total revenue was more pronounced at 24.9%, which is 3.3 percentage points higher than what was recorded by the subject property with a marina. Assuming property management implements the same cost saving strategies, the subject's departmental income and house profit levels declined by 33.8% and 52.4%, respectively. When compared to the previous scenario, the decline in house profit was 14.5 percentage points greater for the subject property operating without a marina. Given the challenges in operating a resort in today's economic climate, a 14.5-percentage-point variance in house profit level can mean the difference in being able to cover fixed operating expenses and meeting debt service obligations.

Marinas typically operate at near-capacity or high occupancy levels, especially in destination resort areas, due to the high volume of transient boaters en route to other destinations and long-term slip rentals from boaters that utilize their vessels as vacation and second homes. Although marinas experience modest dips in occupancy during recessionary periods, with boat owners electing to sell their boats or dry dock, demand for slips tends to rebound quickly in step with an economic recovery. Boat ownership is subject to significant turnover during a recession, as owners give up the economic burden of boat ownership. However, the impact on marina slip revenue is short and limited, as disposed or repossessed boats are quickly resold at significant discounts to new owners looking for a bargain, or who view boats as a more economical alternative to second home ownership. Thus, the demand for marina slips remains strong after some initial turnover, with new owners seeking moorage for their vessels

When contemplating the acquisition of a resort property with a marina operation, additional considerations should include:
Marinas have extremely high barriers to entry, due to the scarcity of available waterfront sites, as well as zoning and entitlement restrictions;
The useful economic life for a boat slip can range from 15 to 25 years, but also varies widely depending on location, type of construction (wood versus concrete), and proximity to the open ocean for coastal sites, among other factors;
Unlike many marinas located on the East Coast, which can be owned in fee, marinas located along the Pacific Coast are typically subject to long-term ground leases with the local port authority. These leases typically require periodic capital reinvestment into the marina and other improvements before a lease extension or assignment is granted. Many times, the type of capital improvement required specifically includes the replacement or significant refurbishment of the boat slips;
When valuing marinas and resorts with marina operations, a lower discount rate and capitalization rate may be warranted, as compared to a resort property without a marina, due to the perceived relative stability of the revenue stream from a marina.
Given the high barriers to entry for new marinas, and the limited supply of available boat slips relative to demand, marinas are generally able to operate at high occupancy levels and generate a consistent revenue stream, which can moderate fluctuations in hotel departmental revenues that are more susceptible to economic downturns.