For the first half of 2009, the question of how well a hotel brand performed was really a question of which did the least poorly. Starwood Hotels & Resorts, Marriott, Wyndham Worldwide, Choice Hotels International, and InterContinental Hotels Group, the major companies that report occupancy, average rate, and RevPAR statistics on a quarterly basis, all noted significant declines.1 Of 42 individual brands surveyed, all reported year-to-date occupancy and RevPAR losses compared to the same period in 2008. Only seven reported average rate growth. Nevertheless, a slower rate of decline counts for something in the context of the recession. In this article, we'll examine the brands most successful at preventing major losses in occupancy, average rate, and RevPAR.
Occupancy
Upon looking at the brands that registered the highest occupancy levels for the first half of 2009, one may be surprised at the high number of full-service and upscale hotels. For its properties in North America, Le Méridien maintained a relatively strong occupancy of 69.0%, the second-highest level among the brands surveyed. This represents only a 3.3 percentage-point drop from its 2008 mid-year occupancy level. Maintaining occupancy, however, came at the expense of rate, which declined by 29.0% over the same period.
W, Westin, Renaissance, and Marriott all maintained occupancy levels above 62.5%. However, these brands have fallen from substantially higher levels achieved at the same period last year. Furthermore, maintaining these occupancy levels required precipitous declines in average rate.
Overall, with the exceptions of the full-service Le Méridien and Hotel Indigo, limited-service hotels suffered the smallest occupancy declines in terms of both percentage points and percent of change. Limited-service brands with relatively strong occupancy in 2009 include Econo Lodge, Knights Inn, and Rodeway Inn, all of which offer basic accommodations at a budget price.
The less dramatic drop-off in limited-service demand can partly be explained by demand captured from guests trading down from full-service hotels. Over the past year it has been widely reported that, of the people who are still traveling, many are opting for accommodations with fewer frills for the sake of a lower room rate. Another factor helping limited-service hotels is the concept of inelastic demand: no matter where the economy stands, some people still need to travel, particularly for commercial purposes. Compared to full-service hotels, limited-service hotels receive a far greater share of demand from highway transient travelers, and as fuel prices have fallen, this has allowed these hotels to fare better in putting the proverbial heads in beds.
Wyndham Worldwide, whose portfolio-wide occupancy dropped by only 5.2 percentage points compared to mid-year 2008, experienced the lowest overall occupancy decline. Wyndham's diversified portfolio of limited-, select-, and full-service hotels may explain its ability to resist more drastic occupancy declines. Choice Hotels' portfolio experienced a similarly low 5.7 point drop.
The following chart illustrates the ten hotel brands that lost the least in terms of occupancy between mid-year 2008 and mid-year 2009.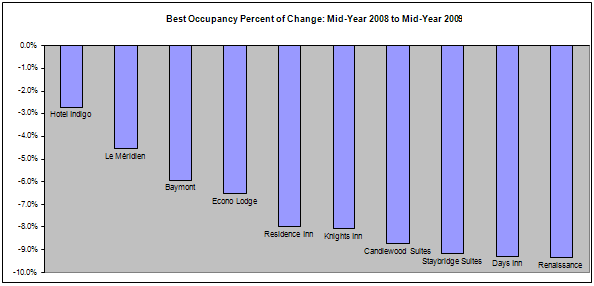 Average Rate
Brands such as Econo Lodge and Knights Inn suffered relatively mild occupancy declines while avoiding the more dramatic rate cuts that plagued full-service hotels in the first half of 2009. In fact, these brands realized very modest rate gains over mid-year 2008 levels.
Even more surprising given the overwhelming trend of average rate declines over the past six months is the performance of the Wyndham hotel brand, which registered a 6.9% rate increase from the same period in 2008. This increase tops any other brand surveyed, even the limited-service brands. The next-best full-service performer was Holiday Inn, which experienced a 3.9% average rate decline from mid-year 2008. Although Wyndham's statistics include international properties as well, in contrast to other brands who report separate data for North American properties, the international lodging market on the whole is not faring any better than the U.S. market and thus cannot account for the average rate growth within the brand.
A better explanation takes into account relative value. Wyndham is regarded as an upscale brand with properties in premium locations, yet its average rate of $120.80 is well below that of its primary competitors. Wyndham is thus becoming the first choice for travelers who want an upscale experience on a limited budget.
Choice Hotels, whose portfolio also comprises a range of limited- and full-service hotels, registered the best company-wide performance, with only a 2.9% total drop in average rate compared to the same period in 2008. Wyndham Worldwide, the next-best contender, experienced a 5.9% drop in rate.
The following chart illustrates the ten brands that led ADR performance between mid-year 2008 and mid-year 2009.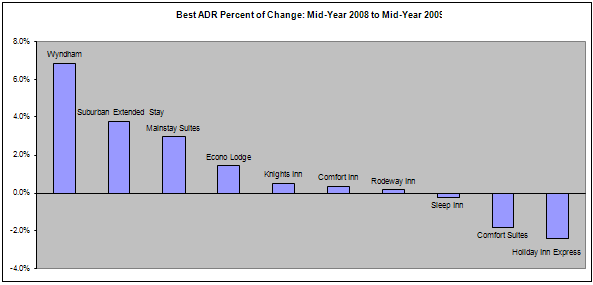 RevPAR
Given the combination of sagging occupancy levels and dwindling average rates, RevPAR performance looks ugly for all hotel brands. All but three brands experienced double-digit RevPAR losses compared to the same period in 2008, with W dropping 36.1%. Only the limited-service Econo Lodge, Knights Inn, and Baymont brands kept RevPAR losses to the single digits. Yet again, Choice and Wyndham fared the best, with RevPAR declines of 13.4% and 15.5%, respectively.
The following chart shows the RevPAR declines of the ten brands that fared the best from mid-year 2008 to mid-year 2009.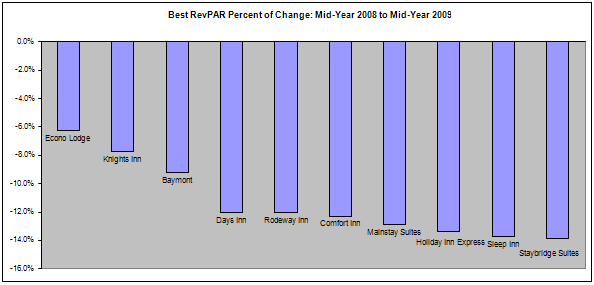 Conclusion
Overall, the best-performing hotel portfolios in the first half of 2009 were those of Choice Hotels and Wyndham Worldwide. Able to offer attractive rates in a dismal economy, limited-service hotels in general have continued to capture demand, including that from guests who traditionally frequented hotels of higher service-levels. The overall success of both Choice and Wyndham, particularly with respect to average rate, is remarkable given the variety of service levels within their portfolios. The first lesson of successful financial portfolio management is to "diversify, diversify, diversify." Given the relatively strong performances of Choice and Wyndham in the midst of the recession, this maxim seems apt for lodging portfolios as well.
The current trend of across-the-board declines in occupancy and rate is unlikely to end soon, giving hotel owners little cause to celebrate. Nevertheless, the leaders in this lagging economy have an opportunity to stay afloat and to emerge on dry ground once the waves subside.
---
1 Note that only the brands of public hotel companies, which are required to file quarterly with the SEC, are included in this survey. Privately owned major chains, such as Hilton Hotels, are not given consideration here.