Tributaries of business, education, transportation, industry, and culture flow to and from the city of Hartford, Connecticut. Apropos for the "Insurance Capital of the World," the City's investments in these sectors and its centralized location within New England serve as an insurance policy for a strong economy, which in turn serves as a catalyst for hotel demand.
Although not exempt from the current national economic downturn, the hospitality industry in the Hartford area is managing to do better than in other areas across the country. There are more than 6,000 hotel rooms within the Greater Hartford region, ranging from casino hotels to New England inns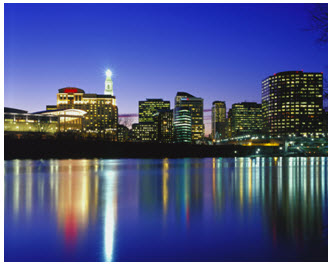 and bed-and-breakfasts. Downtown Hartford hotels are doing best, though just about everywhere has been hit by the decline of both business and leisure travel.
According to Simon A. Flynn, Executive Director of the Connecticut Lodging Association, "Profit margins are being squeezed by the escalation of costs (for food, energy, and other necessities)." However, Flynn added that occupancy levels are meeting or exceeding expectations. Average rates are holding up, too, but could succumb to economic pressures.
"I'm certain we'll come through this," Flynn said. "It's a resilient industry in a strong market. Right now, the real need is to hold rate to cover escalating costs, and it'll take some creativity to cross the balance beam between holding costs and making a profit."
In the following, we'll look at why business in Hartford continues to prosper and what drives demand for area hotels.
Getting There
Hartford is a crossroads of transportation in New England. Roads branching from all of the region's major thoroughfares lead to Hartford, making the city a prime location for tourism, businesses, and conferences. Compared with competing facilities in New York and Boston, Hartford's Bradley International Airport is one of the most easily accessible airports in the northeast.
Bradley International Airport Statistics
Year
Total
Passengers
Percent
Change
2003
6,261,807
---
2004
6,733,128
7.5%
2005
7,381,372
9.6
2006
6,907,042
-6.4
2007
6,519,181
-5.6
 
 
 
Year-to-date through June
2007
3,213,287
---
2008
3,141,897
-2.2%
Source: Bradley International Airport
The statistical decrease in passenger traffic at Bradley over the past two years does not imply a lack of demand for travel to Hartford. "Passenger traffic right now is stagnant as airlines are retrenching because of the economy," said Karen Jain, Director of Marketing at Bradley. Airport officials note that while seating capacity is lower, flights in and out of Bradley are at or near full capacity. The second phase of an expansion of the airport's terminal is coming to a close, and there are plans to construct two additional hotels on airport property to accompany the existing Sheraton, said Jain.
Nearby Hartford-Brainard Airport provides an alternative for private planes and corporate jets, bringing in business travelers and such conventions as that of the Airplane Owners and Pilots Association. Amtrak, which delivers business travelers by rail from Boston and New York, is another crucial transportation artery for Hartford.
Business Environment
Many elements make Hartford one of the top business locations in New England. The capital city's single-largest industry is state government, with consultants, legislators, businesspeople, and others coming regularly to do business with the state. Insurance firms and financial institutions represent the highest percentage of top private employers in the Greater Hartford area. Companies such as Aetna, The Hartford Financial Services Group, Phoenix, and Travelers have their roots here, as do other industry leaders such as United Technologies. Regional training and sales conferences are held in the Hartford area throughout the year, creating demand for area hotels.
Major Private Employers For Hartford Area
Firm
Employees
United Technologies
20,884
The Hartford Financial Group
11,700
Aetna, Inc.
7,240
Cigna
6,662
Northeast Utilities
6,567
Hartford Hospital
6,086
Travelers Property Casualty Group
5,890
ADVO, Inc.
3,900
St. Francis Hospital
3,662
ABB, Inc.
3,000
Source: Connecticut Economic Resource Center
Connecticut Convention Center
The Connecticut Convention Center, located on the 30-acre Adriaen's Landing, contains 140,000 square feet of exhibition space, 40,000 square feet of ballroom space, and 25,000 square feet of flexible meeting space. Since its opening in June of 2005, bookings at the center have surpassed projections.
Connecticut Convention Center Statistics
Year
Number of
Conventions
Percent
Change
Number of
Delegates
Percent
Change
2005-6
362
---
244,223
---
2006-7
225
(37.8)%
248,522
1.8%
Source: Connecticut Convention Center
Hartford's central location is within a two and one-half hour drive to more than 23 million people between Boston and New York City, said Scott Phelps, President of the Greater Hartford Convention and Visitors Bureau.
"Meeting planners have told us that because of our location, they've set record attendance at meetings held here," Phelps said. "It's easy to drive here, and Bradley (International Airport) is hassle-free when compared to JFK and Boston. Just as important is the affordability of Hartford when compared to Boston, New York, and even Providence." Partnerships with hotels, restaurants, attractions, and businesses are essential to Hartford's success in securing future convention bookings, Phelps added.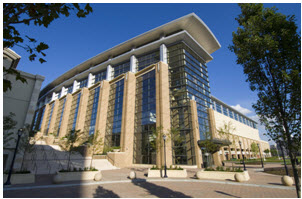 Convention activity since the convention center's opening has resulted in increased hotel room nights. The center was responsible for an additional 32,000 hotel stays in its first year of operation, followed by 43,000 hotel stays in its second year, based on bookings by the Greater Hartford Convention and Visitors Bureau. The 22-story Hartford Marriott Downtown is connected to the convention center and features 409 guestrooms and more than 13,500 square feet of on-site meeting and conference space. The Hilton Hartford hotel, with approximately 400 rooms, is the host hotel for the Hartford Civic Center and the Veterans Memorial Coliseum, the city's primary convention center prior to 2005. Other downtown hotels include the Crowne Plaza, the Sheraton Hartford Hotel, the Holiday Inn Express, the Residence Inn Downtown, and the Goodwin Hotel, all within an easy walk of the convention center and Adriaen's Landing.
Although the number of events is down in the 2006/07 fiscal year, conventioneer numbers are up, as events use more of the building and attendance is higher, Phelps said. One of the challenges, therefore, has been accommodating the large groups and creating a transportation system for movement from hotels to the convention site. For example, some 30 hotels in greater Hartford were needed to accommodate the delegates of the United Church of Christ Synod's regional conference, Phelps said. The Hartford Star Shuttle loops through the downtown area every twelve minutes, thus providing convention participants easy access to other areas of downtown, shopping venues, museums, restaurants, and their hotels.
Education
The "Knowledge Corridor," which stretches from Hartford to Springfield, Massachusetts, is home to 1.6 million people and more than 30 institutions of higher education. Graduation, alumni events, and sporting events attract thousands of visitors requiring hotel rooms throughout the year. In addition, contractors and others travelling in to conduct business with different university departments ensure that Hartford-area hotels are not on hiatus.
Central Connecticut State University (CCSU) was founded in New Britain, just outside of Hartford, in 1849. With a tight student-to-teacher ratio, the university supports an expanding program of urban academic initiatives incorporating community learning, service, and research. CCSU's economic impact from expenditures and student labor during the past year totaled $554.8 million, reflecting the university's strong role in the local and state economies.
The University of Hartford is the culmination of the Hartford Art School, the Hartt School of Music, and Hillyer College. The university's Division I athletics program participates in 18 intercollegiate sports, drawing thousands to the area each year. As a heralded private university, the University of Hartford regularly brings acclaimed authors, artists, and political figures to campus—a boon for area hotels. The university works with over a dozen off-campus hotels that reserve rooms for commencement; these hotels are also recommended by the university to visitors at other times of the year. A number of these hotels provide shuttle service to and from the university.
The University of Connecticut (UConn), the state's flagship university, took a different approach to visitor accommodation by building an on-campus hotel. "Students from New Jersey, New York, Pennsylvania, and Massachusetts coming to look at the university need overnight accommodations close to campus," said Brian Wells, General Manager of the Nathan Hale Inn on the UConn campus. "We're the first venue of choice." Besides its ten schools and colleges at its main campus in Storrs, UConn operates separate Schools of Law and Social Work in Hartford.
Tourism Attractions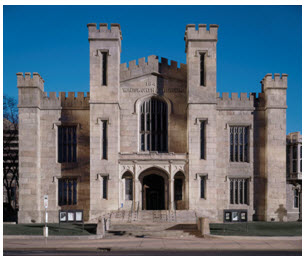 Tourism in Connecticut is a $4-billion-a-year industry, and Hartford's rich history attracts a broad demographic. The nation's oldest public art museum, the Wadsworth Athenaeum, was founded in 1842 in Downtown Hartford. Supported by prominent benefactors like J.P. Morgan, the museum grew to become one of the top ten art museums in the U.S. and now houses some of the most important collections of American and European art in the world. Commemorating two iconic American authors, the Mark Twain House & Museum and the Harriet Beecher Stowe Center stand adjacent in Downtown Hartford. Other major attractions include The Bushnell performing arts center, Dinosaur State Park, and the Old State House and State Capitol.
The Cabela's sporting goods store in East Hartford is a destination in its own right, recognized by a wide swathe of outdoors enthusiasts. "Thousands of people have come through our store, and we are drawing from throughout New England and Canada on a daily basis," said Tera Pryor of the East Hartford Cabela's. Many people traveling to the store do so for more than one day and often as part of a long weekend visit to the area, Pryor said.
Conclusion
Anyone who has worked in, lived in, or visited the area can appreciate the sentiment that "all roads lead to Hartford." Hartford's diverse economy, cultural attractions, and interconnectivity with the rest of New England make the city an attractive location for businesses, conventions, and tourism. Regional universities are also responsible for regularly bringing visitors to Hartford area hotels.
With the right promotion, the potential for growing hotel occupancy, more and larger conventions, and increasing tourism and business opportunities should continue to improve. It's an insurance policy Hartford is banking on.
Photos courtesy of Greater Hartford Convention and Visitors Bureau