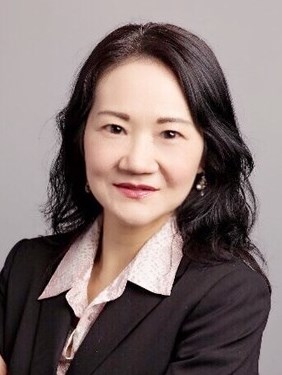 Demand for Economy Hotels in Mainland China

China has become an important tourism destination in Asia and the fifth-largest tourism country in the world (measured in number of international tourist arrivals).[1] The inflow of foreign tourists runs beside a strengthening stream of domestic tourists, whose numbers reached nearly 1.4 billion in 2006. Domestic tourism alone generated US$78.19 billion in 2006, nearly 2.5 times the revenue of 2000.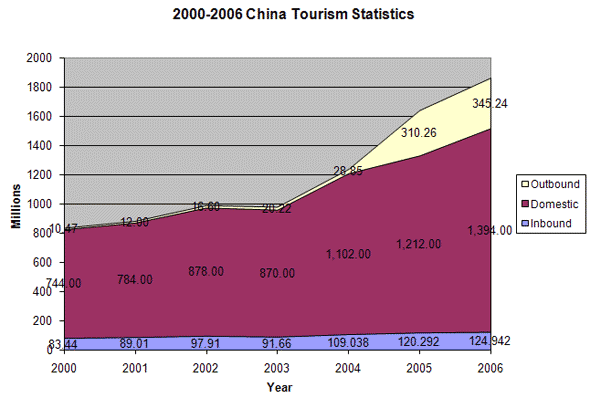 Source: China National Tourism Administration
A steady rise in the personal income of Chinese workers serves as a resource for leisure travel and the development of China's tourism industry. Time is the other key resource, and the five-day-per-week work scheme instituted in 1995, followed by a holiday long-vacation scheme in 1999, has given travelers the leisure time to spend their broadening incomes on hotels and attractions. International tourism to China has increased exponentially along with the country's remarkable economic development, which has become more and more apparent to the eyes of the world. China's dynamic economy, whose Gross Domestic Product was estimated at $10.21 trillion in 2006,[2] also stimulates more business (hereafter "commercial") travel. New and improved infrastructure—roads, railways, and airlines—have literally paved the way for the increased travel that the government and the economy of China continue to make possible.
A study conducted by the Chinese Academy of Social Sciences (CASS) Tourism Research Center showed that 90% of economy hotel guests are domestic travelers and 10% are inbound travelers. This study also reported that business travelers are the major demand generators for economy hotels, representing roughly 65% of the economy hotel market in 2006. The meeting and group contingent comprised 9% of the total, and leisure demand generated the remaining 26%.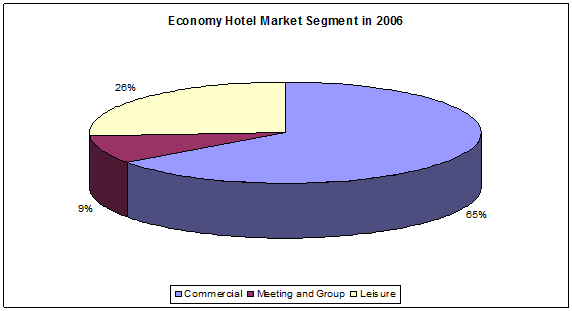 Source: 2007 China Economy Hotel Development Report by CASS Tourism Research Center
The redoubling numbers of commercial and leisure travelers is the primary reason for massive economy hotel development across China. The economy hotel, as we here define it and as the Chinese are embracing it, features most of the fundamentals of its more upscale competition: clean and comfortable rooms, complimentary breakfast, and Internet access. The fundamental distinction is price, which in the case of economy versus luxury hotels can mean affording one night versus five for many Chinese and foreign travelers.

Low capital and a high return on investment is another reason for the significant development of economy hotels. According to the Mainland China Economy Hotel Survey, the average capital investment in an economy hotel in 2006 was approximately $1 million (approximately $7,500 per guestroom), with full returns to come in an average of three to five years. The GOP (Gross Operating Profit per Revenue per Square Meter) was 44.47% in 2006. Performance measured in terms of occupancy and average rate drives this level of profitability: A 2004 report by Deloitte Development LLC revealed that "over 50% of the Chinese markets monitored are performing above the regional Asia Pacific total, and every single Chinese market is out-performing the Europe average." [3]

A third buttress for the rise of China's economy hotel industry comes from the Chinese government. By easing travel restrictions and providing Chinese workers with extended vacation time, the government has helped stir up a slew of patrons for Chinese hotels. Reformations to China's holiday and vacation policies, enacted in November of 2007, took effect on January 1, 2008. These reformations afford Chinese workers paid leave for vacations and additional days off during traditional lunar festivals such as Tomb Sweeping Day, the Dragon Boat Festival, and the Mid-Autumn Festival. In anticipation of the surge in tourism, the government recently initiated a series of policies directly supporting the development of economy hotels across the country. Franchising has been an important development model. The Chinese are widely known to be brand-conscious, something on which hotel franchises seek to capitalize. At the time of the aforementioned Deloitte report, branded hotels accounted for approximately 10% of the total inventory in China, jumping to 30% in 2005 and onward to 31% in 2006. [4] Legislation entitled "Regulations of Commercial Franchise Operations of China" went into effect on May 1, 2007. This new law is expected to regulate many franchising activities in China. In addition, the forthcoming publication of Economy Hotel Operation Guidelines will present China's first set of industry guidelines to regulate and help standardize the services of economy hotels.
Economy Hotel Market Overview
China's first economy hotel, the Jin Jiang Inn, opened in 1997 in Shanghai. Since then, economy hotels have fanned throughout the country. The most dramatic spread came in the last three years, which showed an increase from 166 economy hotels in 2004 to 1,698 as of December of 2007. [5] The chart below illustrates the increase in average rates: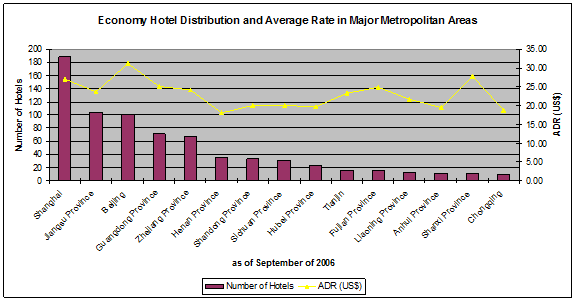 While occupancy dropped from 89.0% in 2005 to 82.4% in 2006, [6] occupancy levels consistently above 80% testify to the strength of the market. It is important to note that the brunt of this decreased occupancy was borne by economy hotels of lesser-standing (owing, in many cases, to inconsistent standards of service and facilities); economy hotels bearing a strong brand and service reputation were leading the market in occupancy. We can hear in this the harbinger of a "survival of the fittest" scenario: Competition for resources (i.e., guest dollars) will only grow fiercer as new supply enters the market, with dire results for those properties unable to adapt. Along these lines, most of the 180 properties that Accor Hotels plans to develop in China by 2010 will operate under the one-star Ibis brand. [7] Ibis hotels offer round-the-clock reception and service, a buffet breakfast, and other amenities that have raised the bar for budget hotels and are looked for more than ever by discerning travelers through China.

Most of China's economy hotels are located in the Shanghai, Beijing, and Jiangsu provinces. China's domestic economy hotel chains, such as Home Inns, Jin Jiang Inns, and Motel168, have been rapidly developing, as have foreign economy hotel brands such as Super 8 and GreenTree Inn. The following table lists the top ten economy hotel groups in China in 2006: 
Leading Economy Hotel Groups in 2006 [8]


The Top Contenders
While foreign brands are on the rise, China's domestic brands dominate the economy hotel market, with the top two domestic brands, Jin Jiang Inn and Home Inns, showing the strongest market position and development trends.
Jin Jiang Inn vs. Home Inns


Jin Jiang Inn & Hotels Management, Inc. 

Jin Jiang Inn is a subsidiary of Shanghai Jin Jiang International Hotels (Group) Company Limited ("Jin Jiang Hotels"), the largest hotel conglomerate in China. The company's hotel portfolio ranges from the economy to the five-star. HOTELS magazine ranked Jin Jiang Hotels 22nd in the world for 2005 in terms of total number of hotel rooms. [9]
As of December 31, 2006, Jin Jiang Inn reported an overall occupancy of 74% and average rate of US$24.33 (RMB194). [10] The company's 2007 interim report claimed 230 economy hotels proposed or in operation and a reported revenue of US$35.02 million (RMB279.2 million).


On December 15, 2006, Jin Jiang Hotels raised US$2.4 billion through an initial public offering on the Hong Kong Stock Exchange. The company plans to use the proceeds to open more economy and two- to five-star hotels outside Shanghai and to refurbish existing establishments in time for the 2008 Olympic Games in Beijing and the 2010 World Expo in Shanghai.

Home Inns & Hotels Management, Inc.

Home Inns & Hotels Management, Inc., headquartered in Shanghai, has vastly expanded its nationwide network of economy hotels since its founding in 2002. As of October 1, 2007, the Home Inns hotel chain consisted of 200 properties. [11] On October 26, 2006, Home Inns announced an initial public offering of 7,900,000 American Depositary Shares (ADS) priced at US$13.80 per ADS on the NASDAQ Global Market, making Home Inns the first mainland China hotel company listed in NASDAQ.

In October of 2007, Home Inns acquired Top Star in a US$45.6 million (RMB340 million) deal. Established in 2005, Top Star, a popular economy hotel brand among domestic business and leisure travelers in China, consists of 26 economy hotels with approximately 4,200 rooms across 18 cities. The addition of these properties allowed Home Inns to further expand its portfolio to more than 320 hotels in more than 80 cities and to leverage both Home Inns' and Top Star's customer bases.

Home Inns plans to continue its expansion and augment its number of properties to 1,000 in three to five years.

Super 8 Hotels (China) Co. Ltd.

Super 8, which operates in China under a licensing agreement between Wyndham Worldwide Corporation and Tian Rui Hotel Investment Corporation, was among the first foreign economy hotel chains to enter the market when it opened its first hotel in Wangfujing, Beijing in June of 2004. The brand has since expanded to first-tier cities such as Beijing, Chongqing, Guangzhou, and Shanghai, as well as second-tier cities such as Dalian, Liaoning, Chengdu, Sichuan, Hangzhou, Harbin, Heilongjiang, Xiamen, and Fujian. Super 8 China plans to continue the expansion to smaller cities and major highway locations. As of February of 2007, Super 8 had 110 properties either open or proposed in 58 cities across China.

Super 8 capitalizes on the "first-mover" advantages of a foreign economy-hotel brand. These include modest price, high standards, and established brand reputation. Super 8's target customers are Chinese middle-class business and leisure travelers who appreciate good value and international levels of quality and service. Super 8 maintains the same high international standards in China as its sister properties in North America, despite differences in areas such as room size and parking lot space.

On August 27, 2007, Wyndham Hotel Group announced that Aetos Capital LP committed to invest up to US$50 million in Super 8 China's parent corporation, Tian Rui Hotel Investment Corporation, to accelerate its hotel development efforts. Tian Rui is now targeting a total of 300 Super 8-branded hotels by the time of the 2008 Olympic Games.

Other Brands

Foreign economy-hotel brands such as Days Inn (Wyndham), Ibis (Accor), and Holiday Inn Express (InterContinental) also have a presence in mainland China. The most competitive advantage of foreign versus domestic hotel chains is management expertise and technology. This applies especially to the central reservation system offered by foreign hotels, which helps advertise and simplify access to the hotel for international tourists. Meanwhile, domestic economy hotel chains take the advantage of local business knowledge and are making progress in adapting the foreign hotel chains' operation model.

Trends in Economy Hotel Development, Financing, and Management

Currently, economy hotels represent just 10% of the overall hotel industry in China, but forthcoming events signal the potential for far greater suffusion. Demand from leisure and commercial sectors is expected to increase with China's continuing economic development and legislative enactments, thus positively affecting travel. The 2008 Olympic Games in Beijing and the 2010 World Expo in Shanghai represent titanic impetuses for economy hotel development. According to the CASS Tourism Research Center, the government is supporting this development to meet the accommodation needs of the enormous inrush of tourists.

Economy hotels have sprouted most densely in China's eastern, northern, and southern regions. In 2006, 46% of economy hotels were distributed in eastern China, 19% in northern China, and 16% in southern China. The fastest growth has been in the suburban areas of first-tier cities such as Shanghai and Beijing, second-tier cities such as Chengdu and Chongqing, business centers such as Shanghai Pudong New Zone and Tianjin High-tech Industrial Park, and tourism destinations such as Sanya and Tsingdao. New competitive hot spots will appear in regional markets such as the central China region. Moreover, vacant land in such areas proves fertile soil for new economy hotel development, and many existing hotels are ripe for conversion from dated to modern accommodations.

Mergers and acquisitions will become the future trend following the massive development. The trend began with the aforementioned acquisition of Top Star by rival Home Inns in October of 2007. This event forecasts the fate of many small-scale brands and independent properties in the economy hotel sector, which are likely to be subsumed by the larger brands.

Capital operations have become the most significant means of brand competition within China's hotel industry. In the current market climate, economy hotels are engaging in external financing through various channels. In October of 2006, Home Inns became the first Chinese hotel listed in NASDAQ, and Shanghai Jin Jiang International Hotel Management Co. Ltd. is listed in the Hong Kong Stock Exchange. Guangzhou-based hotel chain 7 Days Inn received a US$10 million investment from Warburg Pincus in October of 2006; Shanghai Motel Management, which operates Motel168, received a US$20 million investment from Morgan Stanley in early 2007. A variety of investors, including old domestic hotel patriarchs, famous foreign brands, and venture investment funds, are converging on the Chinese hotel market's promise of high profit margins (some reaching 20%) and relatively quick returns.
Hotel Real Estate Investment Trusts (REITs) represent another avenue for capital investment, pioneered by Regal REIT's initial public offering in Hong Kong on March 20, 2007. Hotel REITs are still nascent in mainland China; however, given the rapid growth of the lodging industry, the operation of hotel REITs is a direction in which the market is likely to head, especially with regard to economy hotel development and transactions.
Economy hotel operations consistently evolve to stay current with the competition, which prompts economy hotels to provide a consistent product offering, quality service, competitive pricing, a convenient reservation system, and efficient check-in and -out. Franchise development has raised many of these standards and made certain services compulsory.

The ever-evolving standards for economy properties require experienced management capable of orchestrating a hotel's operations. Increasing operating costs are also prompting hotel chains to hunt for an experienced management team. In 2006, 86% of the economy hotels in China operated with a ground lease, and the ground-lease fee has increased three to five times across China and an average of 40% in Shanghai and Beijing. In addition, utility fees increase every year. Economy hotels' chief advantage over their many-starred brethren is a relatively inexpensive room rate, which can be offered because of lower operating costs. Therefore, as lease and utility costs increase, managers must know how to control expenses according to occupancy and other variables to keep their properties on the profitable side of the margin. Managers with experience in economy-hotel operations are a limited resource in China, and the industry needs to make provisions for training and guidelines through which new managers may matriculate.

Conclusion

The construction of luxury hotels in China will soon peak. As the strong demand for economy hotels increases, so will their development potential in the market. New trends will take hold and new challenges will follow as the wave of economy hotels continues its wash across mainland China.
________________________________________
[1] People's Daily online (http://english.peopledaily.com.cn/200211/21/eng20021121_107170.shtml)
[2] https://www.cia.gov/library/publications/the-world-factbook/print/ch.html
[3] http://www.hotelbenchmark.com/resources/marketsnapshots/20102004AsiaPacific-EN.aspx
[4] 2007 Mainland China Economy Hotel Survey
[5] China Inn Net 2000-2007 China Economy Hotel Development Chart
[6] 2007 Mainland China Economy Hotel Survey
[7] http://www.cnbc.com/id/21668718
[8] 2007 Mainland China Economy Hotel Survey
[9] Corporate 300 Ranking, July 2006
[10] Investor Relations of Shanghai Jin Jiang International Hotels (Group) Company Limited
[11] Home Inns Annual Report