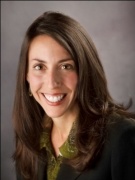 In a previous article focused on golf and country clubs, we suggested that creating a profit and loss statement for every large banquet or catering event is an important tool for management to assess whether the functions they sell are actually profitable. Understanding banquet profitability is important not only for clubs, but also for any establishment that sells catered events, including hotels and restaurants. An establishment that carefully evaluates each piece of banquet business will know what types of events to keep booking and which events to avoid, enhancing the overall long-term health of the operation.
What, exactly, is a banquet profit and loss statement?
It's a profit and loss calculation performed for one individual banquet or other catering-type event that incorporates all of its associated revenues and costs.
What are the benefits?
By generating a profit and loss statement for each banquet function, management will be able to understand the level of profitability contributed by each individual event, schedule staff appropriately, more easily complete a final invoice for the event, enhance management of future banquet menu pricing, and improve food cost control. The banquet floor manager or captain can also use the tool as a guide to understand how the event was sold, and how to best service the event, insuring no details are overlooked. Through the completion of a banquet profit and loss statement, one operator we worked with reported reduction in food cost of 7 percentage points for one of his events.
Who should complete the profit & loss statement and how often?
The sales manager who books an event should also be responsible for completing the profit and loss statement, along with input from culinary staff. Depending on a facility's size, the person responsible for creating the statement may vary. We recommend completing the statement for every large event hosted at your establishment, including, but not limited to weddings and other social or corporate events. In our experience, tracking small events (fewer than ±20 guests) is not usually worth the associated time and effort required to complete the statement.
If I want to try creating a banquet profit & loss statement for my operation, where should I start?
We've attached a link to a Microsoft Excel workbook titled "Catering Event Profitability Worksheet.xls" that you may download to use as a starting point. Click here to download the file now
*. The workbook contains multiple tabs and should be completed in its entirety for meaningful results. As an example, we've created an event below, the "Terrific Party" to illustrate how the profit and loss workbook might completed. We'll describe, step-by-step, what each tab in the worksheet is for, and how each should be filled out.
Instructions:
The first tab is labeled "Instructions." Here you will learn how to create a copy of the original file from which to work, as well as be provided with basic instructions about how to complete the form.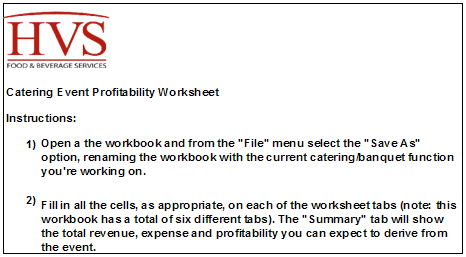 Event Information:
In the "Event Information" tab, you will record the global event information including contact name and phone number, number of guests, event timing, and a description of the function.
PREPARED BY:
Ms. Betsy Seller
 
 
DATE:
(Today's Date)
 
 
EVENT NAME:
Terrific Party
EVENT DATE:
(Event Date)
EVENT TIME:
7:00 pm - 10:00 pm
SETUP TIME:
5:00 PM
CLIENT NAME:
The Great Company
TAX STATUS:
If exempt, letter received?
PHONE NUMBER:
(555) 555-5555
# GUESTS:
45
BILLING ADDRESS:
123 Main Street, Anywhere City, USA
CONTACT NAME:
Ms. Terrific Client
ALT. CONTACT:
Mr. Joe Smith
TYPE OF EVENT:
(Describe Event Details)
Retirement cocktail party for founder and CEO of The Great Company; Cocktails, Cordials, Passed Hors d'Oeuvres and buffet of miniature desserts.
Product Costs:
The "Product Costs" tab is the area where all food and beverage items that will be served at the event are listed, along with the associated production quantities and costs. This provides the foundation for calculating the food cost portion of your event. Note: this works only if you maintain current cost information about food and beverage items that are produced in your kitchen. Further, the cost of any specialty items that do not regularly appear on your menu, which you are planning to produce and serve, should be calculated and added to the sheet. We have included some of the menu items that will be served at the "Terrific Party" in the example below.
** PRODUCT COST **
** HORS D'OEURVES/COLD DISPLAYS/STATIONS **
DESCRIPTION
# PER PERSON
# GUESTS
EST. SERVINGS
SERVING COST
EST. COST
Chicken satay skewers
3
45
135
$0.38
$51.30
Tapenade cups
2.5
45
113
$0.32
$36.00
Phyllo triangles
2.5
45
113
$0.35
$39.38
Cucumber-shrimp wraps
1.5
45
68
$0.68
$45.90
Tuna tartare canapes
1.5
45
68
$0.70
$47.25
Crab puffs
3
45
135
$0.28
$37.80
ESTIMATED HORS D'OEURVES/COLD DISPLAYS/STATIONS COST
$257.63
** DESSERTS **
DESCRIPTION
# PER PERSON
# GUESTS
EST. SERVINGS
SERVING COST
EST. COST
Mini chocolate tower
0.75
45
34
$0.55
$18.56
Baby Grand Marnier flan
0.5
45
23
$0.38
$8.55
Mini berry tart
1
45
45
$0.42
$18.90
Mixed petit fours
2
45
90
$0.25
$22.50
ESTIMATED DESSERTS COST
$68.51
Equipment:
The "Equipment" tab provides an area where you can list all of the equipment that you will need to properly service your event. You will also record the quantities of equipment your establishment already has on hand and the cost of any necessary rentals. Typically, items such as tables, china, glassware, linens, buffet equipment and decorative elements would be included in this section. For the "Terrific Party," the only rentals needed are a few chairs.
** EQUIPMENT **
DESCRIPTION
QUANTITY
IN STOCK
RENT OR PURCHASE
UNIT COST
COST
Tables
5
5
0
$8.00
-
Chairs
45
40
5
$2.50
$12.50
ESTIMATED EQUIPMENT COST
$12.50
Staffing:
Next, the "Staffing" tab allows you to track staffing needs for a particular event. You should include all staff members that will be dedicated to working at the event, such as servers, bussers, and bartenders. Further, you should also include any incremental labor costs that are specifically allocated to the event, such as hours worked by dishwashers, cooks, etc. Total direct labor costs are then automatically calculated.
** STAFFING **
EMPLOYEE NAME
POSITION / FUNCTION
EST. HOURS
RATE
DIRECT LABOR COST
Joe Smith
Captain
7.0
$14.00
$98.00
Sally Jones
Server
6.0
$11.00
$66.00
Orville Red
Bartender
5.5
$12.00
$66.00
John Baker
Server
6.0
$11.00
$66.00
Jane Doe
Busser
8.0
$10.00
$80.00
Candy Cane
Dishwasher
4.0
$9.00
$36.00
Ivan Griller
Prep Cook
4.0
$10.00
$40.00
ESTIMATED STAFFING COST
$452.00
Summary:
Finally, the "Summary" worksheet tabulates the event's revenues and all associated costs that were input into previous tabs. Taxes & benefits must be calculated based on the rates and applicable laws in your area, and gratuity should be based on the policies established at your operation. Once all the information has been entered to generate this final tab, you'll have a solid understanding of how a particular banquet or event affects your business from a profit and loss standpoint.
CATEGORY/ DESCRIPTION
SUB-TOTAL COST
TOTAL COST
DIRECT COSTS
Food & Add-Ons
 
$326.14
Alcoholic Beverages
 
$202.50
Equipment
 
$12.50
STAFFING
Gross Wages
$452.00
 
Taxes & Benefits (% of Gross Wages)
$135.60
 
Gratuity (% of Gross Wages)
$81.36
 
Total Staffing Cost
 
$668.96
TOTAL DIRECT COST
$1,210.10
OVERHEAD (25% of Total Direct Cost)
 
$302.52
TOTAL COST
$1,512.62
Number of Guests
45
Per Person Ticket Charge
$45.00
TOTAL REVENUE
$2,025.00
EVENT PROFIT
$512.38
Completing a banquet profit and loss statement for every large event does require discipline.However, once you've incorporated the practice into your business' regular routine, your establishment will benefit from an increased understanding of how catering events impact the overall business.We challenge you to try this technique for your next event – let us know what you find out!
* Click here to open, view, and print Excel workbooks, even if you don't have Excel installed.