Carlson Rezidor Hotel Group has announced that its Park Inn by Radisson Amsterdam development in the Netherlands has a new owner. A European-Israeli investor group has acquired the building from the German Europe 1 Fund for an undisclosed sum. The 478-room hotel is being developed in a former office complex and construction is due to start this month. The hotel, which will be part of a mixed-use scheme also containing retail and entertainment facilities, is scheduled to open in 2016. "This transaction reflects our pro-active and collaborative approach with our partners and business stakeholders…By providing investment opportunities and business solutions, we endeavour to add value and mitigate risks to all parties involved," commented Elie Younes, senior vice president and head of group development at Rezidor, and HVS alumnus.
Private equity investment firm Solstra Capital Partners has reportedly acquired the Copenhagen Marriott Hotel in Denmark. The 402-room hotel is on the harbour in Copenhagen city centre. Solstra also owns the Crowne Plaza Copenhagen Towers hotel.
Croatian hotel operator Hoteli Cavat has purchased the Metropol Resort complex in the seaside town of Portorož, southwestern Slovenia, from Slovenian chain Hoteli Bernardin for an undisclosed sum. The complex contains four hotels: the five-star, 104-room Grand Hotel Metropol; the three-star, 65-room Hotel Barbara; the three-star, 182-room Hotel Lucija; and the three-star, 111-room Hotel Roža. The hotels were put on the market in May with an asking price of €29.6 million. Hoteli Cavat is expected to take over the hotels during the first quarter of 2015.
It was reported this week that millionaire businessman and racehorse owner, JP McManus, is the new owner of the five-star Adare Manor Hotel & Golf Resort in County Limerick, Ireland. Bids closed for the 62-room hotel, which is on an 840-acre estate, on Friday 14 November. The hotel went on the market in September for €25 million.
Carlson Rezidor Hotel Group has announced that it plans to operate a new hotel in Turkey's capital, Ankara. The Park Inn by Radisson Hotel Ankara Cankaya is due to open in the second quarter of 2015 in the city's Cankaya district, which is home to many of Ankara's embassies and government offices. The new-build, 112-room hotel, 30 km from Ankara International Airport, will have 1,280 m² of meeting and event space, an all-day-dining restaurant and a spa and swimming pool amongst other facilities. Wolfgang Neumann, Rezidor's president and chief executive officer commented that the new hotel "ideally complements the Park Inn by Radisson projects that are being developed in Istanbul, Izmir and Samsun." The group already has one hotel in operation in Ankara and 15 hotels in operation or under development across Turkey.
Hilton Worldwide has signed a management agreement with ITEM srl for its fourth hotel on the Italian island of Sicily, and its first in Catania, Sicily's second-largest city. The 420-room Hilton Catania Capo Mulini Conference Center and Spa is scheduled to open in 2016. "With its picturesque location and unrivalled facilities, Hilton Catania Capo Mulini Conference Center and Spa is set to continue our proud history of innovation in the Italian market," commented Rob Palleschi, the global head of DoubleTree by Hilton.
Accor has signed a management agreement with Action Hotels for its first Novotel property in Kuwait. Construction of the 160-room Novotel Sharq is due to start in mid-2015 and the hotel is expected to open in 2017. The hotel is expected to cost US$29 million to build. Accor currently operates two hotels in Kuwait: the 160-room ibis Sharq and the 175-room ibis Kuwait Salmiya.
Hospitality Management Holdings (HMH) has signed a management agreement with Mobarak Hotels Group for its first hotel in the Saudi Arabian city of Medina. The Coral Al Madina Hotel is expected to open in the second quarter of 2015. The hotel will have more than 400 guest rooms and suites, three restaurants, meeting facilities, a spa, a helicopter landing pad and other facilities, all housed across ten floors and five basement levels. The management deal will also see HMH take on the operation of a further four hotels that Mobarak has under development in the city.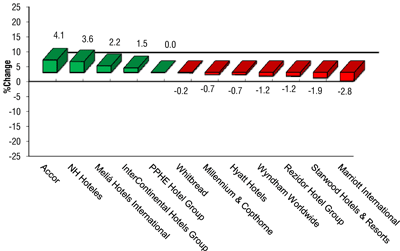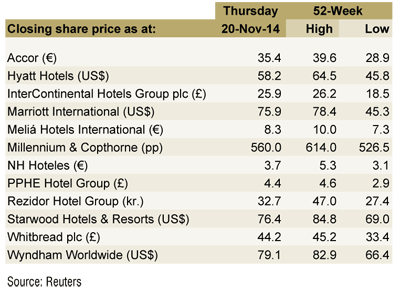 Marriott International and Starwood Hotels – UBS has downgraded both hotel groups from 'buy' to 'neutral'.
Hilton Worldwide– Barclays upped its price target on Hilton from US$27 to US$33.
For the latest in the hospitality industry, please visit: http://www.hvs.com/. You are also welcome to contact the following personnel.
| | |
| --- | --- |
| Russell Kett, Chairman – HVS London (@russellkett) | rkett@hvs.com |
| Charles Human, CEO – HVS London/HVS Hodges Ward Elliott | chuman@hvshwe.com |
| Chris Martin, Director – HVS Hodges Ward Elliott | cmartin@hvshwe.com |
| Tim Smith, Director – HVS London | tsmith@hvs.com |
| Arlett Oehmichen, Director – HVS London | aoehmichen@hvs.com |
| Sophie Perret, Director – HVS London | sperret@hvs.com |
| Peter Malone, CEO – HVS Executive Search, EMEA & Asia | pmalone@hvs.com |
| Demetris Spanos, Managing Director – HVS Athens | dspanos@hvs.com |
| Hala Matar Choufany, Managing Director – HVS Dubai | hchoufany@hvs.com |
| Ezio Poinelli, Director – HVS Milan | epoinelli@hvs.com |
| Louise Fury, Senior Editor and EMEA Hospitality Newsletter Author – HVS London | lfury@hvs.com |
Disclaimer: Information provided above has been gathered from various market sources. HVS has not independently verified the accuracy of the information provided. Interested parties should not rely on the information as statement of facts and are advised to make their own independent checks to verify the information provided. For further information, please feel free to contact HVS London.

Superior Results through Unrivaled Hospitality Intelligence. Everywhere.

Stay current. Click here to receive free HVS newsletters

Looking for insights into the hospitality industry?
Discover unique hospitality intelligence at hvs.com/publications

Interested in a particular market?
Find hundreds of market overviews, all written by HVS experts, at hvs.com/marketresearch

Like to be in the know on hotel trends and predictions?
See our Hotel Valuation Index for dozens of cities at hvi.hvs.com

<>