Dalata Hotel Group has entered into an agreement with Kieran Wallace to purchase the freehold interest of certain elements of two hotels in Dublin, Ireland, for a consideration of €62.5 million, payable in cash. The group has acquired the freehold of the ground and lower-ground floors of the 304-room Clayton Hotel Cardiff Lane, in the city's Docks area, bringing the number of rooms owned in this hotel by Dalata to 193. Additionally, Dalata has agreed to acquire the freehold of the core hotel of the 353-room Clarion Hotel Liffey Valley, to the west of Dublin, including 159 bedrooms, the leisure centre, meeting rooms, reception, bar and restaurant, car park and two vacant retail units. The deal is expected to close in June 2017.
Real estate investment company Nine Group has acquired the Best Western Plus Reading Moat House for an undisclosed sum from affiliates of MCAP Global Finance (UK). The 129-room hotel is five miles from Reading city centre, around 42 miles west of London. The hotel is housed in a Grade II-listed former 19th-century mill house overlooking the River Loddon. The deal is "a very strategic and long-term purchase" for Nine Group said the firm's director, Vivek Chadha. The group now plans to spend millions refurbishing and developing the hotel, which was on the market with a guide price of £12.5 million.
This week, HVS London has unleashed the Hotel Valuation Index Online. This new facility gives you the chance to explore the 33 markets included in this year's HVI publication in greater detail. Not only that, our new online service also shows the percentage change in RevPAR and value for each market in easily downloadable graphs. Delve into the detail at www.hvs.com.
Following the announcement last week of Leonardo Hotels' first NYX hotel for Germany (due to open in Munich in 2018), the group has signed a lease agreement for its second NYX project for the country. A former office building in Düsseldorf, in western Germany, is to be transformed into a 261-room NYX hotel. The hotel is scheduled to open in spring 2019.
NOVUM Hotel Group has formed a strategic alliance with Aroundtown to take over three hotels across Germany previously operated under international brands. Two four-star hotels in Hamburg, with a total room count of 339, are to be operated under the group's NOVUM Select brand and a three-star property in Osnabruck will be reflagged as a NOVUM hotel. All three hotels are to undergo renovation. The pair are also planning further deals. Commenting on the partnership, Dave Etmenan, NOVUM's managing director, said, "'We see it as a significant milestone in our development. As we work together with this highly professional property investor, we can see a whole range of new opportunities opening up that will help both sides meet their ambitious growth plans."
Dusit International has got together with Fretsega Real Estate & Construction to bring a Dusit Thani resort to Ethiopia, in the Horn of Africa, marking the Thailand-based group's first appearance in the country. A total of US$150 million is to be invested in the 358-unit resort, which is to be developed on a 400,000 m² plot of land in Legadadi, 23 km from the capital, Addis Ababa. Construction is due to start in 2017 and the hotel, which will comprise nine two-storey buildings, is expected to be ready in four years.
Marriott International has signed an agreement with Al Eqbal Real Estate Development for the first Ritz-Carlton hotel in Jordan. The 233-room Ritz-Carlton Amman is expected to open in 2020 at the heart of the Jordanian capital. The project also includes 90 Ritz-Carlton Residences, housed across a 20-storey building. "Jordan is an integral part of Marriott International's growth strategy in the Middle East. We have a strong presence in the country with five hotels in operation and now, with the signing of The Ritz-Carlton, we are on track to double our portfolio in the market in the next four years," said Alex Kyriakidis, president and managing director, Middle East and Africa, Marriott International.
AccorHotels has decided that Dubai will be the location for its first Mama Shelter hotel in the Middle East. The hotel, which will be designed by French designer Philippe Starck, is excepted to open before 2020.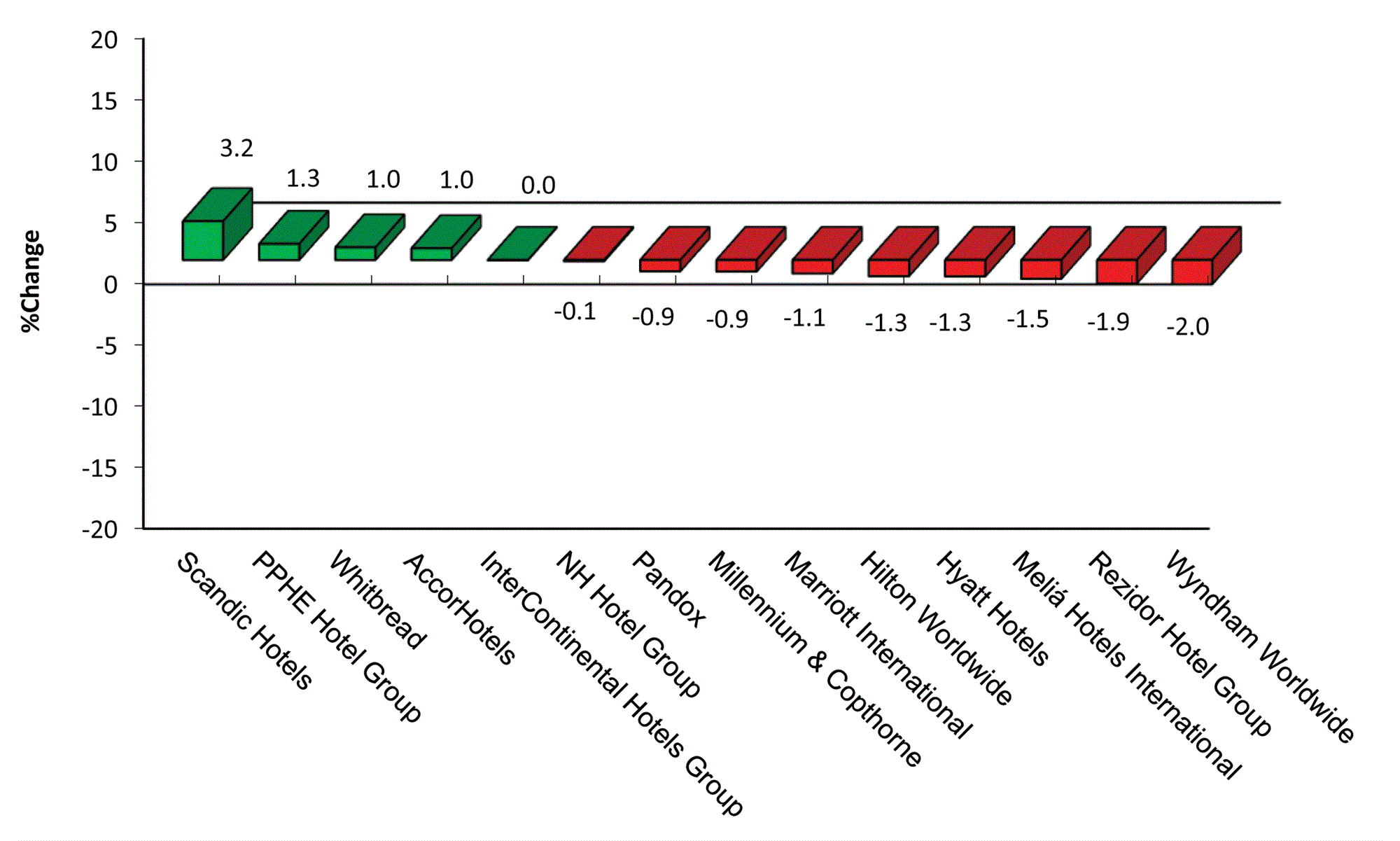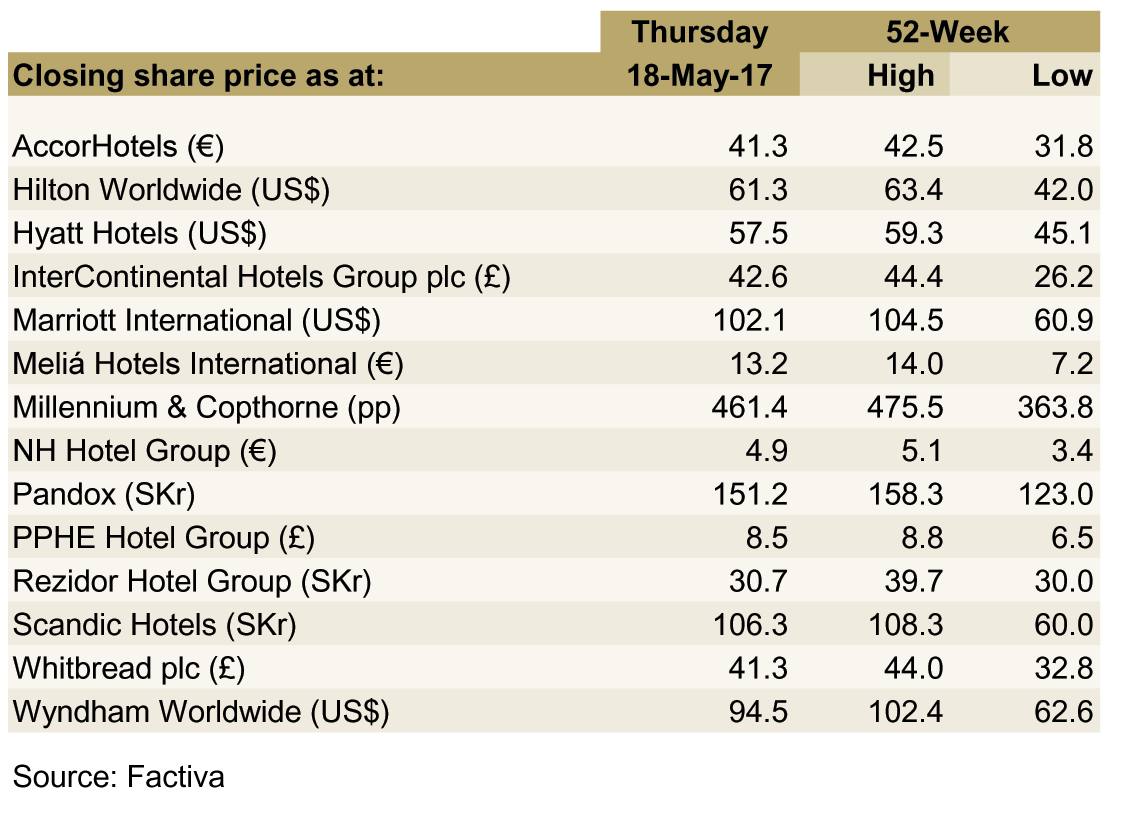 AccorHotels – Is in talks to acquire the FCDE's stake in Groupe Noctis.

Scandic Hotels – Has entered into an agreement with IT and telecom services company which means that DGC will become the primary IT services provider in the hotels operated by the chain.
Disclaimer: Information provided above has been gathered from various market sources. HVS has not independently verified the accuracy of the information provided. Interested parties should not rely on the information as statement of facts and are advised to make their own independent checks to verify the information provided. For further information, please feel free to contact HVS London.
For the latest in the hospitality industry, please visit: http://www.hvs.com/. You are also welcome to contact the following personnel.
| | |
| --- | --- |
| Russell Kett, Chairman – HVS London (@russellkett) | [email protected] |
| Charles Human, CEO – HVS London/HVS Hodges Ward Elliott | [email protected] |
| Simon Tucker Brown, Managing Director – HVS Executive Search Europe & Middle East | [email protected] |
| Chris Martin, Senior Director – HVS Hodges Ward Elliott | [email protected] |
| Arlett Hoff, Director – HVS London | [email protected] |
| Sophie Perret, Director – HVS London | [email protected] |
| Tim Smith, Managing Partner – HVS Cape Town | [email protected] |
| Demetris Spanos, Managing Director – HVS Athens | [email protected] |
| Hala Matar Choufany, Managing Director – HVS Dubai | [email protected] |
| Ezio Poinelli, Senior Director – HVS Milan | [email protected] |
| Louise Fury, Senior Editor and EMEA Hospitality Newsletter Author – HVS London | [email protected] |
Superior Results through Unrivaled Hospitality Intelligence. Everywhere.
Stay current. Click here to receive free HVS newsletters
Looking for insights into the hospitality industry?
Discover unique hospitality intelligence at hvs.com/publications
Interested in a particular market?
Find hundreds of market overviews, all written by HVS experts, at hvs.com/marketresearch
Like to be in the know on hotel trends and predictions?
See our Hotel Valuation Index for dozens of cities at hvi.hvs.com