Marriott International has expanded its Residence Inn by Marriott portfolio by signing two properties for London, UK. The 87-suite Residence Inn London – London Bridge (due to open in the second quarter of 2017) and the 307-suite Residence Inn London – Kensington (scheduled to open in the fourth quarter of 2017) will be operated by Cycas Hospitality under a franchise agreement and will be the extended-stay brands first properties in the UK capital. The group currently has three Residence Inn properties in operation in Europe (in Sarajevo, Munich and Edinburgh) and further two are expected to open during 2017 (in Amsterdam and Aberdeen).
South African-based investment manager Fairtree Capital has purchased three hotels in the borough of Torbay in Devon, southwest England, from the Duchy Hotel Group for £12.5 million (£42,400 per room). The portfolio includes the 78-room Headland Hotel in Torquay, a seafront Victorian villa originally constructed for the Russian royal family; the 141-room Palace Hotel in Paignton, which was built as a private residence in the late 19th century on the town's esplanade; and the 76-room Queens Hotel, also in Paignton, between the town centre and the seafront. Fairtree owns four other hotels in the UK (in Cornwall, West Somerset and the Lake District).
German-based budget design brand Motel One has acquired the Motel One Leipzig-Nikolaikirche in Leipzig, eastern Germany, for approximately €21 million (€108,200 per room) from Lloyd Fonds. The 194-room hotel is centrally located, adjacent to the city's St. Nicholas Church and close to the central railway station. Motel One operates two hotels in the city.
Hilton Worldwide has opened its first Hilton Hotels & Resorts property in St Petersburg, Russia's former imperial capital. The new-build, 169-room Hilton St Petersburg ExpoForum is part of the city's ExpoForum convention and exhibition complex and joins sister hotel, adjacent to the complex, the Hampton by Hilton Saint Petersburg ExpoForum.
Marriott International's W Hotels brand has signed an agreement for its first hotel on Spain's south coast. When it opens in 2021, the beachfront W Marbella and The Residences at W Marbella will become the third W property in the country, joining the already established W Barcelona and the W Madrid, which is scheduled to open in 2019. The Marbella resort will be developed in partnership with an affiliate of Platinum Estates Ltd on Playa Real de Zaragoza and will have 200 guest rooms and 100 low-rise, condominium apartments and villas available for purchase.
Carlson Rezidor's mid-market Park Inn by Radisson chain has opened its second hotel in Belgium's capital, Brussels. The Park Inn by Radisson Brussels Airport is in the city's Diegem Business District, just five kilometres from the airport. The 162-room hotel is owned by VDB Hotels, and joins the 142-room Park Inn by Radisson Brussels Midi. Carlson Rezidor now has 11 hotels in Belgium overall (five of which are Park Inn by Radisson properties).
Wyndham Hotel Group has formed a new strategic development agreement (SDA) with Greek hotel management company Zeus International, building on the pair's existing relationship (they previously formed a partnership to develop the Wyndham Grand Athens). Wyndahm and Zeus will collaborate to development 20 hotels across Greece, Cyprus, Bulgaria and Romania over the next ten years. The first hotels to come to fruition from the SDA will open in Greece: the 108-suite Wyndham Loutraki Poseidon Resort and the 207-key Ramada Loutraki Poseidon Resort, which are due to open this year, followed by the 130-room Wyndham Garden Attica Riviera and the 352-room Ramada Plaza Attica Riviera, both scheduled to open in 2018.
AccorHotels has signed an agreement with Polis H.M. S.A. for an ibis Styles hotel on Greece's largest island, Crete, which will mark the brand's debut in the country when it opens this summer. The ibis Styles Heraklion Central will have 72 rooms and suites and will be located between the centre of the island's capital and its port.
Carlson Rezidor has signed an agreement with Pusula Ticari Yatirim ve Otelcilik for its fifth Park Inn by Radisson in Istanbul, Turkey, increasing the group's portfolio in the country to 24 hotels in operation or under development. The Park Inn by Radisson Asia Istanbul Kavacik is scheduled to open in the second quarter of 2017 in the city's Beykoz district, on the Asian side of Istanbul, at the northern end of the Bosphorus. The 110-room hotel is close to Istanbul's International Financial Centre and 35 km from Atatürk International Airport. "We believe in the long-term prospects of Turkey and welcome our existing and new partners to grow with us a world-class portfolio of brands of hotels and resorts across the country," said Elie Younes, HVS alumnus and executive vice president and chief development officer for The Rezidor Hotel Group.
It was reported this week that AccorHotels is planning to open a new Fairmont-branded property in Egypt. The Fairmont Pyramids Hotel & Residences is expected to open in Cairo in 2022 and will include 250 guest rooms and 200 branded residences. The hotel will be just four kilometres from the Great Pyramids. The group currently has three Fairmont hotels in operation in Egypt, in Cairo, and has a Fairmont-branded project under development in the Red Sea resort of Sharm el Sheikh due to open this year.
After recently announcing the signing of its first property in Zambia, extending its African portfolio to five countries, Indian group Sarovar Hotels & Resorts plans to launch its budget Homotel brand in Nairobi, Kenya, with the signing of the Tetezi Homotel Nairobi. Construction of the 80-room hotel, which is owned by Tetezi House Ltd, has already started and is scheduled to be completed in 2019. The development will be Sarovar's fourth hotel overall in the Kenyan capital and its eighth property in Africa.
Rotana has signed an agreement with RSG International for the Sabah Rotana, which is expected to open in on Sheikh Zayed Road in Dubai, UAE, in the second quarter of 2020. The 54-storey property, within the Sufouh Gardens residential community, will have 222 guest rooms and suites, 260 one-bedroom apartments and 52 two-bedroom apartments. Rotana currently has ten hotels in operation across Dubai.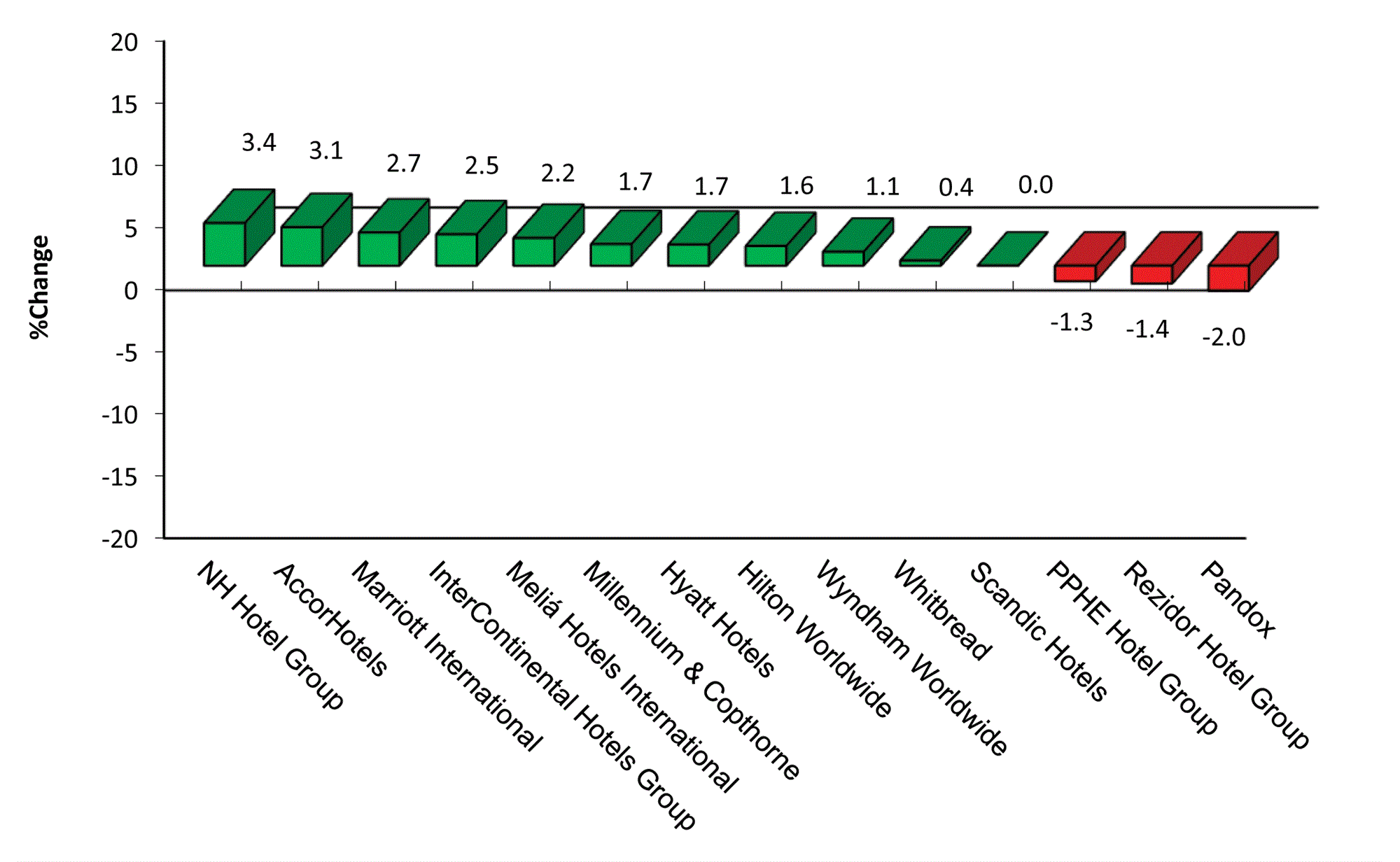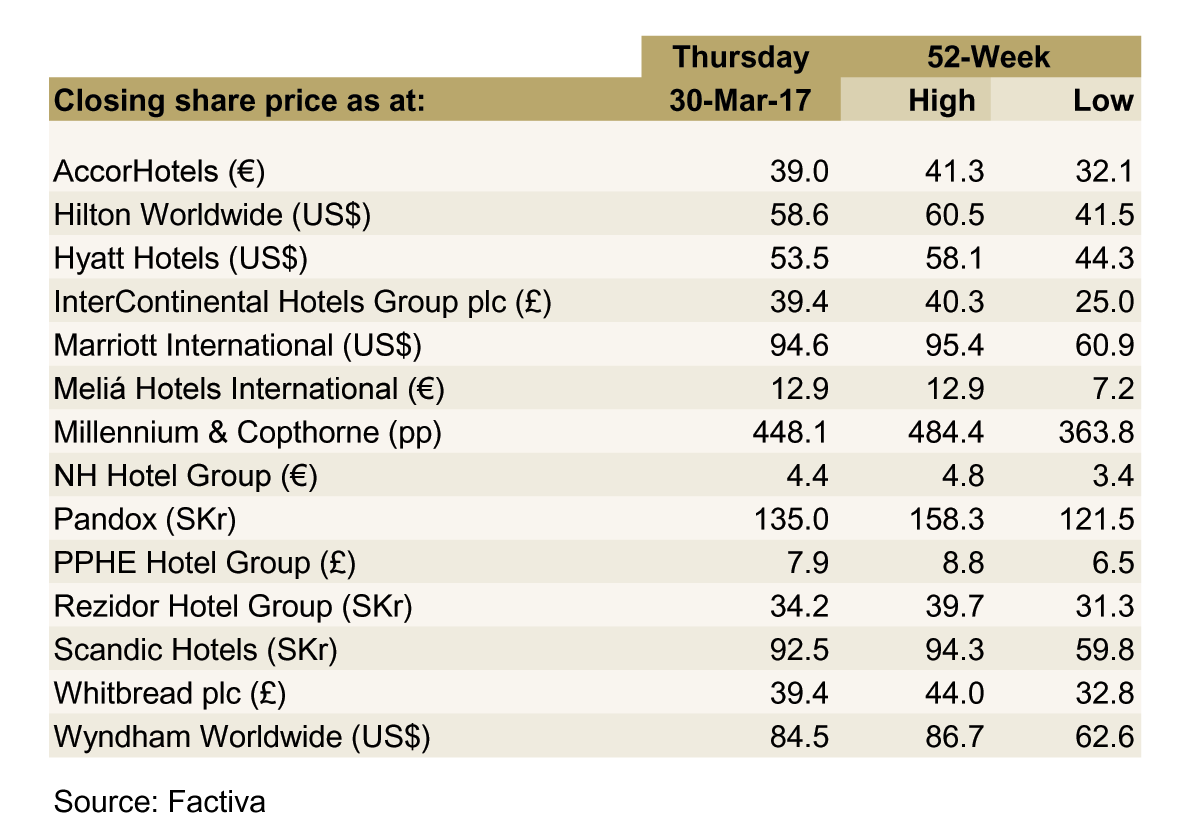 AccorHotels – The management of Potel & Chabot, Edmond de Rothschild Investment Partners (acting on behalf of FPCI WINCH Capital 3) and AccorHotels have entered into exclusive negotiations with the shareholders of Potel & Chabot Group to acquire the Group's entire share capital.

NH Hotel Group – priced an issuance of €115 million in 3.75% notes due 2023 at a premium to par of 3.375%, implying a yield to maturity of approximately 3%.
Disclaimer: Information provided above has been gathered from various market sources. HVS has not independently verified the accuracy of the information provided. Interested parties should not rely on the information as statement of facts and are advised to make their own independent checks to verify the information provided. For further information, please feel free to contact HVS London.
For the latest in the hospitality industry, please visit: http://www.hvs.com/. You are also welcome to contact the following personnel.
| | |
| --- | --- |
| Russell Kett, Chairman – HVS London (@russellkett) | [email protected] |
| Charles Human, CEO – HVS London/HVS Hodges Ward Elliott | [email protected] |
| Simon Tucker Brown, Managing Director – HVS Executive Search Europe & Middle East | [email protected] |
| Chris Martin, Senior Director – HVS Hodges Ward Elliott | [email protected] |
| Arlett Hoff, Director – HVS London | [email protected] |
| Sophie Perret, Director – HVS London | [email protected] |
| Tim Smith, Managing Partner – HVS Cape Town | [email protected] |
| Demetris Spanos, Managing Director – HVS Athens | [email protected] |
| Hala Matar Choufany, Managing Director – HVS Dubai | [email protected] |
| Ezio Poinelli, Senior Director – HVS Milan | [email protected] |
| Louise Fury, Senior Editor and EMEA Hospitality Newsletter Author – HVS London | [email protected] |
Superior Results through Unrivaled Hospitality Intelligence. Everywhere.
Stay current. Click here to receive free HVS newsletters
Looking for insights into the hospitality industry?
Discover unique hospitality intelligence at hvs.com/publications
Interested in a particular market?
Find hundreds of market overviews, all written by HVS experts, at hvs.com/marketresearch
Like to be in the know on hotel trends and predictions?
See our Hotel Valuation Index for dozens of cities at hvi.hvs.com