The Bhatia family has purchased the DoubleTree by Hilton London – Tower of London from US-based Blackstone for more than £300 million. The 583-room hotel has become the third Hilton-branded hotel in the family's portfolio in the UK capital, joining the 419-room Hilton Paddington and the 298-room Hilton Waldorf. Blackstone acquired the hotel in 2011 as part of the Mint Hotels portfolio; the group is currently in the process of reducing its investment in the hotel sector, having sold former Mint hotels to Marathon Asset Management last year.
Fairview Hotels has acquired a portfolio of four Novotel properties in the UK for an undisclosed sum from Land Securities and AccorHotels. The 98-room Novotel Coventry M6/J3, the 101-room Novotel Ipswich Centre, the 119-room Novotel Manchester West and the 132-room Novotel Wolverhampton will be operated by Fairview under a franchise agreement with AccorHotels. The deal increases Fairview's portfolio to nine hotels, all of which operate under franchise agreements with AccorHotels (Mercure, Novotel and ibis).
Marriott International's Westin brand has made its debut in Hamburg, in northern Germany, with the opening of the Westin Hamburg, designed by renowned Swiss architects Herzog & de Meuron. The 21-floor, 205-room hotel is in the city's Speicherstadt warehouse district, a recently designated UNESCO World Heritage Site, and is housed within the new Elbphilharmonie concert hall, a former riverside warehouse. "We are thrilled to debut the Westin brand in Hamburg; and with six Westin hotels throughout Germany, the brand continues to meet the growing global demand for well-being among travelers while on the road," said Brian Povinelli, Global Brand Leader, Westin Hotels & Resorts. "The hotel's commanding riverfront location in the new Hafencity district, coupled with the brand's distinct wellness-focused amenities and programming, ensures that guests will leave The Westin Hamburg feeling better than when they arrived."

Banyan Tree and AccorHotels have entered into heads of terms for a strategic partnership that will see the pair develop and manage Banyan Tree-branded hotels worldwide. Initially, AccorHotels is to invest around €16 million in the Singapore-based group, through a mandatory convertible debenture that at conversion will give AccorHotels an approximately 5% stake in Banyan Tree. AccorHotels also has an option to purchase an additional approximately 5% stake. "With the current consolidation of mega hotel companies, smaller but also global players – many family-controlled – are also seeking strategic alliances with the global giants," said Ho Kwon Ping, Banyan Tree's executive chairman. Our strategic alliance with AccorHotels allows us to remain an independent company, enabling us to continue securing hotel management agreements on our own and yet accelerating Banyan Tree's speed and scope of expansion but with AccorHotels helping us to grow our brands around the world," he added.
Marriott International's Luxury Collection brand has signed five new flagship hotels across Europe. The latest additions to the Collection are the 36-room The Wellesley, a Luxury Collection Hotel, Knightsbridge, which will become London's third Luxury Collection hotel in the first half of 2017; the Westbury, a Luxury Collection Hotel, Mayfair (also in London) with 225 guest rooms and 43 suites, due to join the brand in spring 2017 after a full renovation; the Hôtel de Berri, a Luxury Collection Hotel, Paris, a former office building that is currently being transformed into a 76-room hotel expected to open in 2018; the 83-key Cristallo, a Luxury Collection Resort & Spa, Cortina, in the Dolomites mountain range in Italy, which will become the Collection's first ski resort following this year's winter season; and the 114-room Alexander, a Luxury Collection Hotel, Yerevan, scheduled to open in autumn 2017 as the first Luxury Collection hotel in Armenia. "Our goal is to open 12 Luxury Collection hotels globally by the end of 2017, and with these five additions in Europe, we are well on track," commented Satya Anand, chief operations officer, Luxury & Southern Europe, for Marriott.
Hot on the heels of the signing of the prizeotel Bern in Switzerland, Rezidor and prizeotel have announced that their second joint hotel project will be in the city of Erfurt in central Germany. The 208-room prizeotel Erfurt-City is expected to open in 2019 and will be directly connected to Erfurt's central railway station. Commenting on the news, prizeotel's founder and chief executive officer, Marco Nussbaum, said, "I am very pleased to bring our second joint project to market, within eight months of the announcement of our partnership with The Rezidor Hotel Group. Our cooperation is already bearing fruit and demonstrates the growing appeal of the prizeotel brand for guests as well as for investors".
Carlson Rezidor has opened its first Park in by Radisson Residences property in the city of Riga, Latvia. The 78-unit Park Inn by Radisson Residence Riga, Barona is at the heart of the city centre on Krisjana Barona iela. The residences join the group's portfolio of five hotels (1,300 rooms) in Latvia, all of which are located in the capital and largest city, Riga (four Radisson Blu hotels and one Park Inn by Radisson).
London's iconic Claridge's hotel has been granted planning permission by Westminster Council to expand by seven floors. Two of the new storeys will be above ground (adding 40 guest rooms to the hotel's existing inventory of 197) and five will be basement levels (which will include a gym, a swimming pool, a spa, a bakery and chocolatier, wine stores and other facilities).
Carlson Rezidor has signed a franchise agreement for a new hotel in Moscow, Russia. The Park Inn by Radisson Izmailovo is due to open in the first quarter of 2017 as the group's fourth Park Inn by Radisson property in Moscow. The hotel is in the city's eastern district, close to Izmailovo park. Rezidor currently has 35 hotels in operation across Russia. "We are committed to maintaining and strengthening our market-leading position in Russia," said Elie Younes, HVS alumnus and executive vice president and chief development officer for Carlson Rezidor.
InterContinental Hotels Group has opened the Holiday Inn London – Kensington. The hotel is close to some of the UK capital's most famous attractions, such as the Royal Albert Hall, Harrods and Kensington Palace, and has 13 meeting rooms and a health club and spa, amongst other facilities. With 708 guest rooms, the hotel is one of the largest Holiday Inn properties in Europe.
Best Western has opened its first Executive Residency property in Africa. The five-storey, 48-unit Executive Residency by Best Western Nairobi is on Riverside Drive in the Kenyan capital. The newest Best Western in Nairobi is the only internationally branded serviced apartment complex in East Africa, and it joins three other Best Western properties in the city. The Executive Residency by Best Western Nairobi is managed by Trianum, an independent hospitality management company based in Nairobi, Kenya that specialises in the management of serviced apartments and extended stay hotels. Trianum was established in 2010 and now has an eight-property portfolio totalling 421 keys.
AccorHotels has signed management agreements for four new hotels in Egypt, bringing the group's portfolio in the country to 31 hotels in operation or under development. The Fairmont Fuka Bay is scheduled to open in 2019 within an upscale residential development with 250 guest rooms and 150 branded residences, followed by the Swissôtel Fuka Bay in 2022 with 300 hotel rooms and 200 branded residences. The 250-room Novotel Al Alamein City, overlooking the Crystal Lagoons project, and the 300-room ibis Styles Al Alamein City, adjacent to a water park and shopping centre, are due to open in 2018.
Deutsche Hospitality is to open its tenth hotel in Egypt. The Steigenberger Hotel El Lessan Ras El-Bar is scheduled to open in 2018 in the port of Damietta, in northeastern Egypt. The 158-room hotel will be on the waterfront, connected to the Ras El Bar Lighthouse via a pier. The hotel is owned by the Holding Company for Tourism and Hotels and will be operated by Deutsche Hospitality under a management agreement.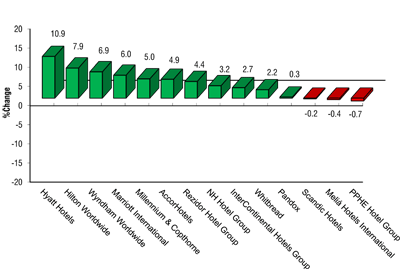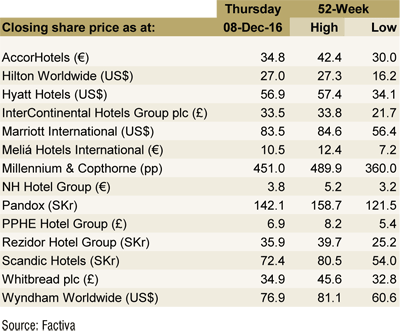 InterContinental Hotels Group – InterContinental Hotels cut to 'neutral' from 'buy' by MKM Partners.

Disclaimer: Information provided above has been gathered from various market sources. HVS has not independently verified the accuracy of the information provided. Interested parties should not rely on the information as statement of facts and are advised to make their own independent checks to verify the information provided. For further information, please feel free to contact HVS London.
For the latest in the hospitality industry, please visit: http://www.hvs.com/. You are also welcome to contact the following personnel.
| | |
| --- | --- |
| Russell Kett, Chairman – HVS London (@russellkett) | [email protected] |
| Charles Human, CEO – HVS London/HVS Hodges Ward Elliott | [email protected] |
| Simon Tucker Brown, Managing Director – HVS Executive Search Europe & Middle East | [email protected] |
| Chris Martin, Senior Director – HVS Hodges Ward Elliott | [email protected] |
| Puneet Kanuga, Director – HVS Hodges Ward Elliott | [email protected] |
| Arlett Hoff, Director – HVS London | [email protected] |
| Sophie Perret, Director – HVS London | [email protected] |
| Tim Smith, Managing Partner – HVS Cape Town | [email protected] |
| Demetris Spanos, Managing Director – HVS Athens | [email protected] |
| Hala Matar Choufany, Managing Director – HVS Dubai | [email protected] |
| Ezio Poinelli, Director – HVS Milan | [email protected] |
| Louise Fury, Senior Editor and EMEA Hospitality Newsletter Author – HVS London | [email protected] |
Superior Results through Unrivaled Hospitality Intelligence. Everywhere.
Stay current. Click here to receive free HVS newsletters
Looking for insights into the hospitality industry?
Discover unique hospitality intelligence at hvs.com/publications
Interested in a particular market?
Find hundreds of market overviews, all written by HVS experts, at hvs.com/marketresearch
Like to be in the know on hotel trends and predictions?
See our Hotel Valuation Index for dozens of cities at hvi.hvs.com