The owner of the Alton Towers and Thorpe Park theme parks in the UK, Secure Income REIT (SIR), is set to purchase the freehold of 55 Travelodge hotels (3,096 rooms) for £196 million (approximately £63,300 per room). Under the deal, which is subject to a share placing expected to raise £140 million, the 55 budget properties will continue to be let to Travelodge. The acquisition will raise SIR's real estate portfolio (which includes healthcare and leisure venues and private hospitals) to 81 sites.
Bespoke Hotels has signed an agreement with real estate asset manager Criterion Capital to operate a number of hotels due to open across London in the fourth quarter of 2016 and over 2017. The first hotel to open under the partnership will be the 86-room MGallery, London, Leicester Square, which is scheduled to open this December, followed by more properties around the city's iconic Leicester Square and in Piccadilly and Greenwich.
BrownHouse Management (BHM) has sold the Stuttgart Zuffenhausen Hotel in Stuttgart, southeast Germany, to Paris-based asset manager LFPI Group for an undisclosed sum. BHM, which is a subsidiary of the Ella Group, bought the 119-room hotel, in Stuttgart's Zuffenhausen area, in 2007. "When we acquired the property we knew that our strategy is to create value and I am delighted that we have implemented this strategy in our first hotel sale", said Yoav Itzhaki, BHM's managing director. The group currently manages six three- to four-star hotels across Germany and one four-star property in Budapest, Hungary.
AccorHotels recently opened its first Pullman-branded property in Latvia. The Pullman Riga Old Town was developed in an historic building, which dates back to 1789, on Jekaba Street in the city's Old Town. The 155-room hotel is operated by Wisher Enterprises LV. AccorHotels now has four properties in operation in the Latvian capital.
InterContinental Hotels Group (IHG) has opened its first Hotel Indigo property in Poland in Krakow, the country's second largest city. The Hotel Indigo Krakow is in the city's medieval Old Town, a UNESCO World Heritage Site, and is housed in a 180-year-old building. The 56-room hotel is operated under a franchise agreement with Hotel Filipa 18 Ltd. IHG currently has 19 Hotel Indigo properties in operation across Europe and the brand has a further 14 hotels in the pipeline for the region.
As well as the debut of Hotel Indigo in Poland, this week, IHG also announced the recent opening of another new Polish property and the planned inauguration of two others across Eastern Europe in September and October, with a further 46 hotels in its pipeline for the region set to open over the next three to five years. The 160-room Holiday Inn Dabrowa Gornicza opened in August 2016 in southern Poland, the 119-room Staybridge Suites Baku is scheduled to open this month in Azerbaijan and the 67-room Holiday Inn Plovdiv will open next month in Bulgaria.
African hospitality company BON Hotels has signed an agreement for its second property in East Africa and its first in Uganda. The Lake Heights Hotel, Uganda will be rebranded as the Lake Heights Entebbe by BON Hotels on 1 October 2016. The 33-room hotel overlooks Lake Victoria and is the first boutique hotel in the town of Entebbe, in central Uganda. The deal follows the group's recent signing for the 48-room BON Hotel Addis Ababa in Ethiopia, which is currently under construction and scheduled to open in the first quarter of 2017. The Cape Town-based group currently has 15 hotels across the continent, nine of which are in South Africa.
Jumeirah Group has selected Belgian-born Marc Dardenne as its group chief operating officer, and he will be moving to Dubai to take up his new role with immediate effect. Dardenne has a career in the industry spanning more than 30 years and joins Jumeirah from Singapore-based Patina Hotels and Resorts, where he was chief executive officer. Dardenne isn't a stranger to Dubai, however, as he has previously been based in the emirate working as chief executive officer at Emaar Hotels and Resorts.
Starwood Hotels & Resorts' Aloft brand has made its debut in Saudi Arabia with the opening of the Aloft Riyadh. The 281-room hotel, at the intersection of Olaya Street and Makkah Road, close to key government ministries, is owned and was developed by FAS Hotels. "With a portfolio of more than 100 hotels in dynamic destinations around the globe, Aloft continues to be one of the fastest growing hotel brands and is set to open 12 more properties in the Middle East by 2020," commented Brian McGuiness, global brand leader, specialty select brands for Starwood. "Saudi Arabia boasts a rapidly growing tech savvy culture, and Aloft resonates in this market with its innovative programming and approach to technology, which appeal to today's hyper-connected traveller," he added. Saudi Arabia is due to get its second Aloft property at the end of the year with the opening of the 262-room Aloft Dhahran.
AccorHotels has entered into a strategic partnership with real estate developer Amer Group that will see the French group manage three of Amer Group's hotels in Egypt. The 32-room Porto El Jabal Hotel, the 91-room Porto Sokhna Beach Resort and Spa (which also has 51 serviced apartments and villas) and the 114-unit Cancun Beach and Resort are all located on Egypt's Red Sea coast. All three resorts will undergo an extensive renovation, expected to be completed in 2018. The El Jabal Hotel and the Sokhna Beach Resort and Spa will remain branded as Porto hotels but the Cancun resort is to be reflagged under AccorHotels' Mercure brand. Additionally, the second phase of the partnership will see Amer Group developing new properties under AccorHotel brands, such as ibis and Mercure, in and around the Porto resorts.
It was reported this week that Hong Kong-based Swiss-Belhotel has signed an agreement with Jordan Projects for Tourism Development (JPTD) to co-manage JPTD's existing portfolio of hotels in Jordan and its upcoming properties, marking Swiss-Belhotel's first appearance in the country. In the city of Aqaba, JPTD currently has several five-star and four-star hotels, a collection of hotel apartments and residential accommodation. JPTD's chief executive officer also commented that the group plans to expand outside of Jordan.
Millennium & Copthorne has signed a strategic alliance with Dubai-based property development and real estate firm Deyaar Development PJSC to operate three of Dyaar's projects currently under development in the emirate. A hotel and serviced apartments in Al Barsha adjacent to the Mall of the Emirates, The Atria luxury residences in Dubai's Business Bay and the Montrose serviced apartments Montrose in the Dubai Science Park are expected to be completed between late 2017 and early 2018 and combined will total 953 units. Under the deal, Millennium & Copthorne will manage and operate the hotel and serviced apartments and will also provide consultancy services during the construction phase of the projects. Ali Hamad Lakhraim Alzaabi, president and chief executive officer of Millennium & Copthorne MEA, commented that the alliance with Dyaar "means we remain firmly on track to reach our target of 100 hotels by 2020, positioning Millennium & Copthorne as one of the fastest growing hotel groups in the region."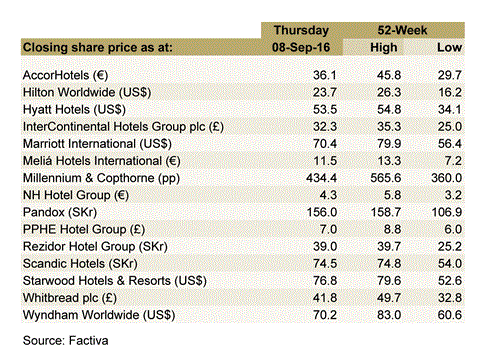 NH Hotel Group – Said it has received a lawsuit from Chinese shareholder HNA.

Millennium & Copthorne – Christian Mognol has been appointed head of asset management and acquisitions for the UK and Europe.

For the latest in the hospitality industry, please visit: http://www.hvs.com/. You are also welcome to contact the following personnel.
| | |
| --- | --- |
| Russell Kett, Chairman – HVS London (@russellkett) | rkett@hvs.com |
| Charles Human, CEO – HVS London/HVS Hodges Ward Elliott | chuman@hvshwe.com |
| Simon Tucker Brown, Managing Director – HVS Executive Search Europe & Middle East | stuckerbrown@hvs.com |
| Chris Martin, Senior Director – HVS Hodges Ward Elliott | cmartin@hvshwe.com |
| Puneet Kanuga, Director – HVS Hodges Ward Elliott | pkanuga@hvshwe.com |
| Arlett Hoff, Director – HVS London | ahoff@hvs.com |
| Sophie Perret, Director – HVS London | sperret@hvs.com |
| Tim Smith, Managing Partner – HVS Cape Town | tsmith@hvs.com |
| Demetris Spanos, Managing Director – HVS Athens | dspanos@hvs.com |
| Hala Matar Choufany, Managing Director – HVS Dubai | hchoufany@hvs.com |
| Ezio Poinelli, Director – HVS Milan | epoinelli@hvs.com |
| Louise Fury, Senior Editor and EMEA Hospitality Newsletter Author – HVS London | lfury@hvs.com |
Disclaimer: Information provided above has been gathered from various market sources. HVS has not independently verified the accuracy of the information provided. Interested parties should not rely on the information as statement of facts and are advised to make their own independent checks to verify the information provided. For further information, please feel free to contact HVS London.
Superior Results through Unrivaled Hospitality Intelligence. Everywhere.
Stay current. Click here to receive free HVS newsletters
Looking for insights into the hospitality industry?
Discover unique hospitality intelligence at hvs.com/publications
Interested in a particular market?
Find hundreds of market overviews, all written by HVS experts, at hvs.com/marketresearch
Like to be in the know on hotel trends and predictions?
See our Hotel Valuation Index for dozens of cities at hvi.hvs.com