AccorHotels has acquired luxury serviced home rental company onefinestay for a reported €148 million (£117 million). Onefinestay currently operates 2,600 properties in various locations including, London, New York, Paris, Los Angeles and Rome. Accor plans on investing a further €64 million (£50 million) to help the company expand into other key urban markets with a view to having a presence in 40 new cities over the next five years. Onefinestay will continue to be led by CEO and co-founder, Greg Marsh, who, in 2010, established the company in London alongside Demetrios Zoppos, Tim Davey and Evan Frank. Sébastien Bazin, Chairman & CEO of AccorHotels, said, "Onefinestay has successfully captured a sweet spot: a combination of needs that neither traditional hotels nor new actors of the sharing economy can meet. With the acquisition of this exceptional brand, unique operating model and outstanding management team, AccorHotels is developing as the worldwide leader of the Serviced Homes market. Today, together with our recent investments, we are accelerating the transformation of our business model to capture the value creation linked to the rise of private rentals and also strengthening our presence in the luxury market with a complementary offer."
PPHE Group has secured an £87 million long-term refinancing of the 299-room Park Plaza Victoria Hotel, in London, with Cornerstone Real Estate Advisers. The deal comes after the hotel was revalued at £161.5 million. Boris Ivesha, president and chief executive of PPHE Hotel Group, commented, "The new facility enables us to invest further in this well-established and well-performing hotel."
Following Frasers Hospitality's acquisition of four UK hotels from Swire Properties Hotels Holdings in a £36.1 million deal, two of the hotels purchased have been rebranded as Malmaison hotels. Malmaison and sister brand Hotel du Vin are owned by Singapore-based Frasers Hospitality. The 71-room Hotel Seattle in Brighton, originally built as a Holiday Inn Express and launched by Alias Hotels, has become the Malmaison Brighton. In Cheltenham, the 60-room Montpellier Chapter hotel is next to become a Malmaison with changes already being made to the 1847 villa. The other two hotels purchased in the deal and expected to soon be rebranded as either Malmaison or Hotel du Vin, are The Magdalen Chapter in Exeter and the Avon Gorge Hotel in Bristol. Frasers Hospitality chief executive Choe Peng Sum said, "These four stylish and iconic hotels in their respective towns and cities are a perfect fit for Malmaison and Hotel du Vin. And this acquisition is clearly in line with the group's expansion strategy of the brands within the UK, Europe and Asia. With these two best-in-class lifestyle brands, we are on track to achieve our goal of operating 30,000 keys by 2019."
The Arora Group has taken over the operation of the 239-room Hilton London Stansted Airport Hotel following its purchase of the occupational lease and business of the hotel. Surinder Arora, founder and chairman of the Arora Group said, "This is a great opportunity for Arora to work with this major brand in a franchisee capacity, building on our valued relationship as landlord for a number of Hilton-operated hotels. We benefit from an unrivalled understanding of hotels in the UK's airport regions as developers, operators and franchisees and we are really looking forward to bringing this expertise to this key location."
AccorHotels' boutique MGallery by Sofitel brand has recently opened the Hôtel Paris Bastille Boutet – Mgallery Collection in Paris, France. The 80-room hotel, the first five-star hotel in the area, is housed in a building that was once a joinery workshop and then a chocolate factory called 'Maison Boutet'. The building's façade, which dates back to 1926, has been restored to its former glory. MGallery by Sofitel currently operates 82 hotels across 23 countries.
German hotel group, Maritim Hotelgesellschaft, has signed an agreement to take over the four-star Saray Regency on the Turkish Riviera near Side. The signing for the 381-room hotel, which will operate under the Maritim brand and be known as the Maritim Hotel Saray Regency, took place at the ITB travel fair in Berlin, Germany. Dr Monika Gommolla, owner and chairperson of the advisory board of the Maritim Hotelgesellschaft, commented, "The Turkish Riviera holiday region offers high quality, attractive rates and an excellent environment for a varied and relaxing holiday. This popular holiday area is also peaceful. Safety concerns are only an issue in the large cities such as Istanbul. We are sure that tourists will soon return to the Turkish beaches."
Minrav Projects, controlled by Avraham Kuznitsky, and a company controlled by the Nakash brothers and Raz Oded have signed an agreement to acquire 75% of a plot on HaYarkon Street on the Herbert Samuel Promenade in Tel Aviv, Israel, for ILS 97 million (€22 million). The plot is owned by developer Gabi Elbaz who will retain the remaining 25%. The three acre site will comprise hotels and residences as part of a luxury project. The companies have agreed with Mizrahi Tefahot Bank for the financing of the project.
Gobal hospitality group, FRHI Hotels & Resorts, has announced plans to open four new properties in the Middle East. The hotels, set to open this year and the beginning of next year, include: the 303-room Fairmont Riyadh, Business Gate in Saudi Arabia; the 317-room Fairmont Amman in Jordan; the 413-room (plus 316 residences) Fairmont Citystars Sharm El Sheikh in Egypt; and the 180-room (plus 13 residences) Fairmont Fujairah in the UAE. Sami Nasser, senior vice president, operations, Middle East, Africa and India for FRHI, commented, "Our growth pipeline in the Middle East and Africa region (MEA) and Saudi Arabia, in particular, remains a key focus for our world-leading luxury hotel brands. This region is among the fastest-growing for FRHI for both business and leisure travel as well as major events and the success has been built on our unwavering dedication to the highest standards of hospitality."
Luxury hotel company and member of Dubai Holding, Jumeirah Group, is set to open its latest addition to the Madinat Jumeirah resort this summer. The 430-room Jumeirah Al Naseem is currently under construction but is now accepting reservations for October onwards. Other hotels in the resort include the 292-room Jumeirah Mina A'Salam and the 283-room Jumeirah Al Qasr, as well as the villas of Jumeirah Malakiya Villas and the summer houses of Jumeirah Dar Al Masyaf.
The Rezidor Hotel Group has opened a new Radisson Blu hotel in Ivory Coast, West Africa. The 261-room Radisson Blu Hotel, Abidjan Airport is located in the country's economic capital, Abidjan, and just 500 m from Port Bouet Airport. "This opening is testament to the firm belief we have in Africa's growth potential and clearly illustrates how committed we are in ensuring that Rezidor and Africa's growth story are integrally and simultaneously told," said Marc Descrozaille, area vice president Africa and Indian Ocean, The Rezidor Hotel Group, "This opening allows us to continue to strengthen our position across the continent, particularly in Western Africa, offering our guests iconic experiences in our world-class hospitality establishments. With 30 hotels and more than 6,000 rooms in the pipeline, the future is certainly positive." Meanwhile, over in Europe, the Grand Hotel Tammer in Tampere, Finland, has reopened its doors after renovation and is now known as the Radisson Blu Grand Hotel Tammer. The 87-room hotel is the third-oldest hotel in Finland and has become the eighth Finnish Radisson Blu.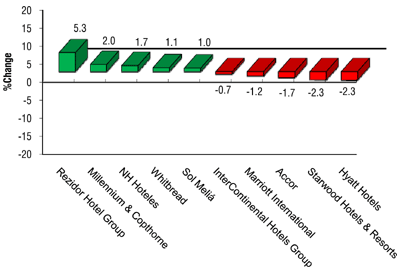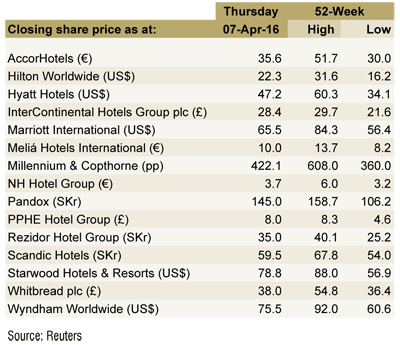 Pandox – Has moved forward the publication of its interim report January-March 2016 to 3 May to coordinate with the annual shareholders' meeting.

Wyndham Worldwide – Wyndham's EMEA portfolio is currently enjoying strongest growth ever.
For the latest in the hospitality industry, please visit: http://www.hvs.com/. You are also welcome to contact the following personnel.
| | |
| --- | --- |
| Russell Kett, Chairman – HVS London (@russellkett) | rkett@hvs.com |
| Charles Human, CEO – HVS London/HVS Hodges Ward Elliott | chuman@hvshwe.com |
| Simon Tucker Brown, Managing Director – HVS Executive Search Europe & Middle East | stuckerbrown@hvs.com |
| Chris Martin, Senior Director – HVS Hodges Ward Elliott | cmartin@hvshwe.com |
| Puneet Kanuga, Director – HVS Hodges Ward Elliott | pkanuga@hvshwe.com |
| Arlett Hoff, Director – HVS London | ahoff@hvs.com |
| Sophie Perret, Director – HVS London | sperret@hvs.com |
| Tim Smith, Managing Partner – HVS Cape Town | tsmith@hvs.com |
| Demetris Spanos, Managing Director – HVS Athens | dspanos@hvs.com |
| Hala Matar Choufany, Managing Director – HVS Dubai | hchoufany@hvs.com |
| Ezio Poinelli, Director – HVS Milan | epoinelli@hvs.com |
| Lesley Whitehead, Editor and EMEA Hospitality Newsletter Author – HVS London | lwhitehead@hvs.com |
Disclaimer: Information provided above has been gathered from various market sources. HVS has not independently verified the accuracy of the information provided. Interested parties should not rely on the information as statement of facts and are advised to make their own independent checks to verify the information provided. For further information, please feel free to contact HVS London.
Superior Results through Unrivaled Hospitality Intelligence. Everywhere.
Stay current. Click here to receive free HVS newsletters
Looking for insights into the hospitality industry?
Discover unique hospitality intelligence at hvs.com/publications
Interested in a particular market?
Find hundreds of market overviews, all written by HVS experts, at hvs.com/marketresearch
Like to be in the know on hotel trends and predictions?
See our Hotel Valuation Index for dozens of cities at hvi.hvs.com