Florence-based privately owned chain Starhotels has forged an agreement with TDA Capital Group that will see it acquire and manage four five-star Royal Demeure Group properties across Italy for an undisclosed sum. The portfolio includes the 88-room Hotel d'Inghilterra, housed in a 16th-century building close to the Spanish Steps in Rome; the 67-room Hotel Helvetia & Bristol at the centre of Florence, which dates from the mid-19th century; the 51-room Grand Hotel Continental in Siena, originally built in the 1700s as a residence for the aristocracy; and the 58-room Hotel Villa Michelangelo in Vicenza, near Venice, originally constructed for the Tomi family in the 1700s.
Edinburgh-based Apex Hotels has sold a hotel development site in the city of Bath, southwest England, to an unamed pension fund for £6 million in a sale-and-leaseback deal. Apex will use the funds raised from the sale to help fund the construction of a 177-room hotel on the site, expected to open in mid-2017.
Manchester Property Holdings Ltd has sold the Holiday Inn Express Manchester Cc – Oxford Road, in northwest England, to Singapore-based property firm Heeton for £17.3 million (£118,000 per room), representing a sub 7% yield. The 12-storey, 147-room hotel is in Manchester city centre, between the Palace Theatre and Manchester Metropolitan University.
This week saw the 2016 Serviced Apartments Awards take place at the Grange Tower Bridge Hotel, in London. Around 350 guests arrived from around the globe to applaud the 18 winners as they received their prizes. HVS's very own Arlett Hoff, a director with the London office, was one of the judges and presenters – Arlett presented the award for Best Interior Design to Gavin MacLennan for the Old Town Chambers Edinburgh. Amongst the other winners was the Adina Apartment Hotel Bondi Beach, which won the Best Architecture/External Design category, and the award was picked up by Andrew Hunter from Adina. Additionally, Hans Meyer received the Best Innovation/Disruption award on behalf of Zoku.
Carlson Rezidor has got together with one of its long-term partners, SOK Corporation, to open a new Radisson Blu hotel in the Finnish capital, Helsinki. Following a renovation, the former Sokos Hotel Aleksanteri has re-opened as the Radisson Blu Aleksanteri Hotel, Helsinki. The 151-room hotel, which will be run by SOK Corporation subsidiary Sokotel Oy, is in the city centre, close to Helsinki's trendy Punavuori district. Rezidor now has nine Radisson Blu hotels in operation in Finland, four of which are in Helsinki.
Four Seasons Hotels and Resorts has formed a partnership with specialist emerging markets investment bank Arqaam Capital that will see the Canadian company open its first property in Croatia. The Four Seasons Resort Hvar, Croatia is currently under construction on the Adriatic island of Hvar, just off the country's Dalmatian Coast. The waterfront development, at Brizenica Bay, will include the 120-room hotel, 60 Four Seasons-branded private residences, swimming pools and private infinity pools, a state-of-the art spa and fitness centre, food and beverage outlets, retail boutiques and conference and banqueting facilities.
Marriott International has opened its latest Moxy hotel at the airport in Munich, Germany's third largest city and the capital of Bavaria, in the southeast of the country. The 252-room Moxy Munich Airport is a five-minute shuttle bus ride from the airport's main terminal. The hotel, which is owned and was developed by Vastint Hospitality, is one of five hotels planned to open across Europe under Marriott's millennial-focused, lifestyle Moxy brand during 2016. The hotel is operated under a franchise agreement by Nordic Hospitality.
An affiliate of Hyatt Hotels has formed a 50:50 joint venture with SIGNA to develop an Andaz hotel in Vienna, Austria. The 300-room Andaz Am Belvedere Vienna is to be created across two separate buildings that will be linked by bridges and a shared lounge on the ground floor. When it opens in early 2019 in the city's Belvedere Quarter, it will become the second Hyatt-branded property in Austria, alongside the 143-room Park Hyatt Vienna. "This is an incredibly important development for Vienna, with the Belvedere Quarter set to become a sought-after destination in the city," commented Peter Norman, senior vice president of acquisitions and development for Hyatt – Europe, Africa and Middle East. "It also represents an exciting opportunity to extend the successful collaboration between SIGNA and Hyatt and to bring our customers the luxury and creative inspiration that the Andaz brand is known for," he added.
Hilton Worldwide has opened its 18th property in Egypt and its third in the city of Alexandria. The Hilton Alexandria King's Ranch is in the King Mariout area of Alexandria, on Egypt's Mediterranean coast, 12 km from Borg Al Arab International Airport. The 199-room hotel houses the country's first Premedion Spa, and also has six food and beverage outlets, six function rooms and a ballroom. "With the opening of Hilton Alexandria King's Ranch, we continue to build on our long-standing legacy in Egypt, a country we have served for more than 50 years," said Rudi Jagersbacher, Hilton's president for the Middle East and Africa.
Mövenpick Hotels & Resorts has signed a management agreement with Hadia Abdul Latif Jameel Group for the Mövenpick Hotel & Apartments Al Tahlia in Jeddah, Saudi Arabia, which will become the group's first hotel and apartment property in the city when it opens in 2017. The 164-unit development will be on Hail Street, close to the city's main commercial, consular, shopping and financial districts, and it will be part of a wider mixed-used project. Mövenpick currently has two properties in operation in Jeddah and ten across Saudi Arabia (3,907 keys); the group's expansion plans will see it increase its Saudi Arabian portfolio to 15 properties (5,204 keys) by 2018.
Rotana has opened its third hotel in Bahrain: the 26-storey, 249-room Downtown Rotana in Manama. This hotel brings the group's portfolio in the GCC countries up to 42. "The launch of Downtown Rotana is a significant milestone for us – one that falls perfectly in line with our wider expansion plans and growth strategy in the GCC and the region as a whole. With the opening of this new upscale hotel, our company's inventory in the Kingdom has increased to more than 680 rooms," said Omer Kaddouri, Rotana's president and chief executive officer. "This year we are set to roll out at least 10 new properties across a number of key markets including Saudi Arabia, UAE, Turkey, Democratic Republic of the Congo, Jordan and Iraq," he added.
Four Seasons Hotels and Resorts has opened its second hotel in the emirate of Dubai UAE: The 106-room Four Seasons Hotel Dubai International Financial Centre in the DIFC federal financial free zone. The eight-storey hotel joins its beachfront sister property, the 237-room Four Seasons Resort at Jumeirah Beach, which is just 15 minutes away. The latest Four Seasons in Dubai marks the first of two planned openings this year in the UAE; the 200-room Four Seasons Hotel Abu Dhabi at Al Maryah Island is due to welcome its first guests in May.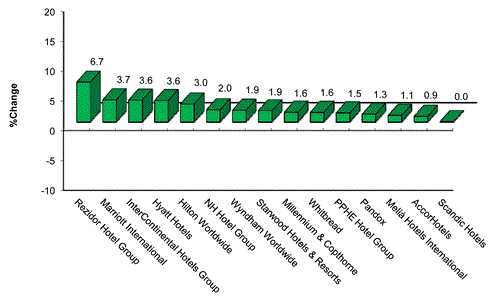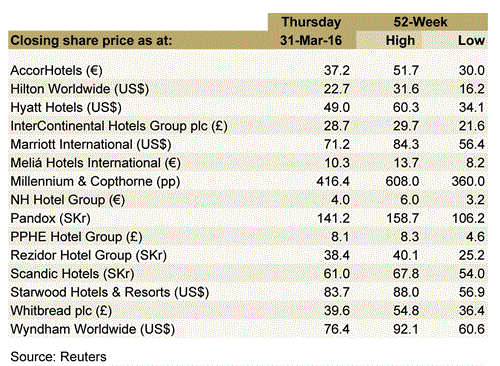 Marriott International – Will release its results for the first quarter of 2016 on Wednesday 27 April.

Starwood Hotels & Resorts – China's Anbang abandons US$14 billion bid to buy Starwood, paving the way for the merger with Marriott to go ahead.
For the latest in the hospitality industry, please visit: http://www.hvs.com/. You are also welcome to contact the following personnel.
| | |
| --- | --- |
| Russell Kett, Chairman – HVS London (@russellkett) | [email protected] |
| Charles Human, CEO – HVS London/HVS Hodges Ward Elliott | [email protected] |
| Simon Tucker Brown, Managing Director – HVS Executive Search Europe & Middle East | [email protected] |
| Chris Martin, Senior Director – HVS Hodges Ward Elliott | [email protected] |
| Puneet Kanuga, Director – HVS Hodges Ward Elliott | [email protected] |
| Arlett Oehmichen, Director – HVS London | [email protected] |
| Sophie Perret, Director – HVS London | [email protected] |
| Tim Smith, Managing Partner – HVS Cape Town | [email protected] |
| Demetris Spanos, Managing Director – HVS Athens | [email protected] |
| Hala Matar Choufany, Managing Director – HVS Dubai | [email protected] |
| Ezio Poinelli, Director – HVS Milan | [email protected] |
| Louise Fury, Senior Editor and EMEA Hospitality Newsletter Author – HVS London | [email protected] |
Disclaimer: Information provided above has been gathered from various market sources. HVS has not independently verified the accuracy of the information provided. Interested parties should not rely on the information as statement of facts and are advised to make their own independent checks to verify the information provided. For further information, please feel free to contact HVS London.
Superior Results through Unrivaled Hospitality Intelligence. Everywhere.
Stay current. Click here to receive free HVS newsletters
Looking for insights into the hospitality industry?
Discover unique hospitality intelligence at hvs.com/publications
Interested in a particular market?
Find hundreds of market overviews, all written by HVS experts, at hvs.com/marketresearch
Like to be in the know on hotel trends and predictions?
See our Hotel Valuation Index for dozens of cities at hvi.hvs.com