AC Hotels by Marriott has opened its fifth property in France. The AC Hotel Marseille Velodrome is at the heart of the business district in France's second largest city, Marseille, on the Mediterranean coast. The 216-room hotel is just a few steps away from the Chanot Congress & Exhibition Center and Velodrome Stadium. Marriott International's design-led lifestyle AC brand could also be entering the Belfast market in Northern Ireland; the green light has been given for a 188-room hotel development in Belfast's City Quays area, which will reportedly be operated under the AC Hotels by Marriott brand, becoming the third of its kind in the UK following the launch of AC hotels in Manchester and Birmingham.
Union Investment has acquired a 3,006 m² Hyatt Place development at Frankfurt Airport, in Germany, from the project's developer and lessee, Europahotel Baufeld 11.3 GmbH & Co KG, via a forward purchase agreement for an undisclosed sum. The Hyatt Place Frankfurt Airport will be part of the mixed-use Gateway Gardens development and is expected to open in the first quarter of 2018. When completed, the 312-room hotel will be purchased by Union for its open-ended retail real estate fund, Unilmmo: Global and it will be operated by the Feuring Group.
Hilton Worldwide opened its tenth DoubleTree by Hilton hotel in Turkey this week. The DoubleTree by Hilton Van overlooks Lake Van in eastern Turkey. The 94-room hotel, just ten minutes from Van city centre, has six food and beverage outlets, conference space for up to 1,000 guests and a spa, amongst other facilities.
Wyndham Worldwide has opened its first Ramada Resort property in Ireland. The Ramada Resort Dundalk is in the town of Dundalk, close to the border with Northern Ireland. The 84-room resort is part of Wyndham's collaboration with Lester Hotels Group; it is the fifth of 20 Ramada-branded hotels expected to open across the UK and Ireland over the next ten years, which will all be managed by Lester Hotels Group.
Scandic will take over the operation of the First Hotel Europa Aalborg, in northern Denmark, as of 1 June 2016. The 168-room hotel will be renamed the Scandic Aalborg City, and it will become the group's second hotel in the city, joining the 101-room Scandic Aalborg. Scandic currently operates 22 hotels (more than 3,700 rooms) across Denmark.
Whitbread's Premier Inn brand recently made its debut in Germany with the opening of the Premier Inn Frankfurt Messe, in the country's fifth largest city. The 210-room hotel is adjacent to the Messe Frankfurt exhibition grounds. The chain's latest opening marks its first move outside of the UK and Ireland. Mark Anderson, managing director for commercial, property and Premier Inn Germany, said that the first German property "kicks off our national expansion programme. Our official opening for the site will be in April but in the interim we wanted to welcome our first guests, get their feedback and incorporate that where possible. The feedback so far has been very positive."
Meliá Hotels International is opening its first Sol House property in Morocco in May 2016. The 121-room Sol House Taghazout Bay is 15 km north of Agadir, on Morocco's southwest coast. It is the fourth Meliá property to open under its lifestyle Sol House brand, with three hotels already in operation across Spain. There are three more Sol House hotels in the pipeline due to open this spring and summer (two in Bali and one on the Spanish island of Ibiza).
Thailand-based Anantara Hotels, Resorts & Spas will be making its first appearance in Oman in mid-2016 with the opening of not one but two resorts in the sultanate. The Anantara Al Jabal Al Akhadar, in northeast Oman, is on the Saiq Plateau, 2,000 m above sea level – which makes it the highest five-star resort in the Middle East. The resort will operate with 82 guest rooms and 33 villas. The Al Aleed Resort – Salalah by Anantara, in the south of Oman, is just ten kilometres from Salalah city centre. The resort, which is situated between a beach and a freshwater lagoon, will have 40 guest rooms and 88 villas.
Hilton Worldwide has signed a management agreement with the Muscat National Development and Investment Company for the Hilton Garden Inn Muscat – Al Khuwair in Oman, its first hotel in the capital Muscat and its second hotel in Oman overall, joining the 147-room Hilton Salalah Resort, which has been in operation since 1999. The 232-room Hilton Garden Inn is scheduled to open in 2019 in Muscat city centre.
Dubai-based HMH – Hospitality Management Holdings has signed a management agreement with real estate company Muzn Oman Commercial (S.A.O.C.) for its first Corp-branded hotel in Oman. The three-star Corp Muscat Al Muzn is expected to open in the first quarter of 2018 in Mawaleh, close to Muscat International Airport. The 132-room hotel will be part of the 12,014 m² Al Muzn mixed-use project, which will also include a shopping centre and a luxury wellness facility. "The scale of opportunity in the region for hotels especially in the budget segment is unprecedented. By 2020 our aim to have six hotels in Oman while multiplying by four our total inventory of keys," said Laurent A Voivenel, chief executive officer of HMH.
Millennium & Copthorne has opened its third hotel in Saudi Arabia: the 191-room Millennium Hotel Hail, which is the only five-star hotel in the northwestern city of Hail. "This opening cements our commitment to expansion across the entire Kingdom, not only the holy cities of Makkah and Madinah but in cities such as Riyadh, Jizan, Tabouk and Jeddah across the North, South and Western provinces," commented Ali Hamad Lakhraim Alzaabi, Millennium's president and chief executive officer for the Middle East and Africa.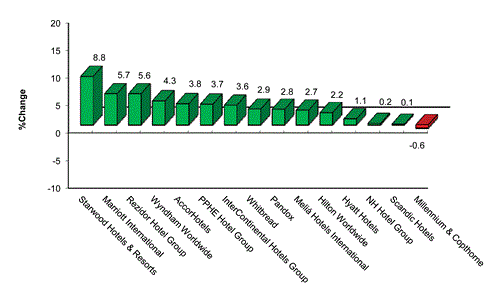 Pandox – Achieved a profit of SKr2,131 million for 2015.

Starwood Hotels & Resorts – Allen downgraded to "equal weight" and raised the share price target from US$72 to US$77.

AccorHotels – Signed an innovative partnership with Jovago to incorporate all AccorHotels established on the African continent on the Jovago platform.
For the latest in the hospitality industry, please visit: http://www.hvs.com/. You are also welcome to contact the following personnel.
| | |
| --- | --- |
| Russell Kett, Chairman – HVS London (@russellkett) | rkett@hvs.com |
| Charles Human, CEO – HVS London/HVS Hodges Ward Elliott | chuman@hvshwe.com |
| Simon Tucker Brown, Managing Director – HVS Executive Search Europe & Middle East | stuckerbrown@hvs.com |
| Chris Martin, Senior Director – HVS Hodges Ward Elliott | cmartin@hvshwe.com |
| Puneet Kanuga, Director – HVS Hodges Ward Elliott | pkanuga@hvshwe.com |
| Arlett Oehmichen, Director – HVS London | aoehmichen@hvs.com |
| Sophie Perret, Director – HVS London | sperret@hvs.com |
| Tim Smith, Managing Partner – HVS Cape Town | tsmith@hvs.com |
| Demetris Spanos, Managing Director – HVS Athens | dspanos@hvs.com |
| Hala Matar Choufany, Managing Director – HVS Dubai | hchoufany@hvs.com |
| Ezio Poinelli, Director – HVS Milan | epoinelli@hvs.com |
| Louise Fury, Senior Editor and EMEA Hospitality Newsletter Author – HVS London | lfury@hvs.com |
Disclaimer: Information provided above has been gathered from various market sources. HVS has not independently verified the accuracy of the information provided. Interested parties should not rely on the information as statement of facts and are advised to make their own independent checks to verify the information provided. For further information, please feel free to contact HVS London.
Superior Results through Unrivaled Hospitality Intelligence. Everywhere.
Stay current. Click here to receive free HVS newsletters
Looking for insights into the hospitality industry?
Discover unique hospitality intelligence at hvs.com/publications
Interested in a particular market?
Find hundreds of market overviews, all written by HVS experts, at hvs.com/marketresearch
Like to be in the know on hotel trends and predictions?
See our Hotel Valuation Index for dozens of cities at hvi.hvs.com