Patron Capital has sold its stake in the Staybridge Suites Liverpool, on King's Waterfront in the city of Liverpool in northwest England, to its partner Amsterdam-based hotel management company Cycas Hospitality for an undisclosed sum. Cycas will continue to manage the 132-unit hotel. Other hotels sales reported this week include German Estate Group's acquisition of the 163-room Villa Kennedy in Frankfurt, Germany, for an undisclosed sum from Commerz Real's hausInvest open-ended real estate fund portfolio. The five-star hotel, which opened in 2006, is operated by Rocco Forte Hotels. Also in Germany, Union Investment has purchased the 364-room Meliá Berlin in an off-market transaction from Grundstüksverwaltungsgesellschaft Am Weidendamm Berlin-Mitte mbH.
Hilton Worldwide and one of its longstanding partners Icelandair have got together to develop two new properties in central Reykjavik, marking the debut of the Curio Collection in Iceland. The 50-room Reykjavik Consulate Hotel, Curio Collection by Hilton is scheduled to open in 2018; the hotel will be constructed across a number of traditional Reykjavik properties, including the building that housed the city's first department store. The 160-room Iceland Parliament Hotel, Curio Collection by Hiton is also due to open in 2018, opposite Reykjavik's parliament building and the city's main square. The new Curios will bring Hilton's portfolio in Iceland up to four hotels – the group currently operates the 251-room Hilton Reykjavik Nordica and the Canopy by Hilton Reykjavik City Centre will welcome its first guests on 1 September 2016. Hilton has also forged an agreement with Quits Hospitality for its first Curio-branded property in Africa. The 54-room The Legend, Curio Collection by Hilton is slated to open in mid-2016 at Murtala Muhammed International Airport in Lagos, Nigeria.
InterContinental Hotels Group (IHG) has signed a management agreement with InterHotel Grand – Hotel Sofia AD for its first InterContinental-branded property in Bulgaria. An existing hotel, overlooking Alexander Nevski Cathedral at the heart of Sofia, is to undergo a refurbishment, from which it will emerge in 2017 as the 182-room InterContinental Sofia. Over in Italy, the signing of the InterContinental Venice – Palazzo Nani paves the way for the first InterContinental property in Venice. The 51-room hotel is the product of a franchise agreement with Cordifin Group and H.n.h. Hotels & Resorts Management. A 16th-century palace, on the Cannaregio Canal, will be converted into the hotel, which is due to open at the beginning of 2018. Additionally, IHG also recently signed a franchise agreement with St James's Hotel Group for a new Hotel Indigo property in the UK. The Falcon Hotel in the town of Stratford-upon-Avon, the birth place of William Shakespeare, is to be refurbished and rebranded, and will open as the 92-room Hotel Indigo Stratford-upon-Avon at the beginning of 2018. IHG now has nine Indigos in operation in the UK and a further eight in its pipeline.
Starwood Hotels & Resorts has announced the re-entry of its Le Méridien brand into Italy with a new hotel in Rome. The 240-room Le Méridien Visconti Rome is due to open by the end of the year and will be the result of a conversion and extensive renovation of the existing Visconti Palace Hotel, in the city's Prati district near the Vatican. The hotel is owned and will be managed by the Toti Group. Starwood currently has 23 hotels across Italy in total, operating under five brands.
The Edinburgh Hotel Collection (part of Canadian group Palm Holdings) has signed a franchise agreement with Choice Hotels International that will see two of the group's four hotels across Scotland's capital, Edinburgh, become the first properties in the UK to join Choice's Ascend Hotel Collection. The 18-room Howard and the 42-room Channings will be rebranded as The Howard, an Ascend Hotel Collection Member and the Channings Hotel, an Ascend Hotel Collection Member, respectively. "The launch of the Ascend Hotel Collection here in Edinburgh is part of our strategy to continue diversifying our portfolio and provide the UK with a new upscale hotel offering," commented Mark Pearce, senior vice president for Choice Hotels' international division.
In just four days the global hotel industry will convene from 7-9 March at the InterContinental Hotel in Berlin for the annual International Hotel Investment Forum (IHIF). HVS and HVS Hodges Ward Elliott are key sponsors of the event – come and visit our stand, which again will be opposite the hotel's LA Café and Bar, a great meeting spot. HVS London's CEO, Charles Human, will be moderating a panel on The Deal Makers, featuring key executives from AccorHotels, CDL Hospitality Trusts, Eastdil Secured and Patron Capital, to be held on Tuesday 8 March at 12.00 noon. Earlier that morning, at 9.45am, Russell Kett, Chairman of HVS London, will be one of the presenters of Investors and Analysts, joining others from STR Global and Christie & Co being quizzed by Edward Wojakovski, CEO of Tonstate Group. It will be interesting to see Russell answering questions for a change! Ezio Poinelli, senior director of HVS Italy/Spain and Paolo Buffa from HVS Spain will also be at the IHIF. Ezio will be part of a panel of experts discussing the opportunities for investing in Italy. We all look forward to seeing you in Berlin!
Hyatt Hotels Corporation is launching a new brand, The Unbound Collection by Hyatt. The collection will comprise a variety of hotel types across the globe (existing and new properties), which will all have their own individual brand identities, including the Hôtel du Louvre in Paris, France. "We are committed to creating a portfolio that works for owners and provides them with flexibility, agility, and support, all while accentuating the best of each property and the experiences that make each truly extraordinary," said Mark Hoplamazian, Hyatt's president and chief executive officer.
Hilton Worldwide's Garden Inn brand has marked the group's debut in Morocco with the opening of a hotel in the port of Tangiers. The Hilton Garden Inn Tanger City Centre is owned by Inveravante and managed by Hilton. The 320-room property is a short walk to Tanger Beach.
It was reported this week that Isrotel has signed a non-binding agreement in principle to acquire the Mizpe Hayawin Hotel in the town of Rosh Pina, in Northern Israel, from Sami Hazan for NIS103 million (approximately €24 million/€250,000 per room). Isrotel expects to sign a binding agreement for its purchase of the 97-room hotel by the end of March and the transaction is expected to be completed by the end of June.
Carlson Rezidor is taking its lifestyle select Radisson RED brand to Dubai for the first time. The 171-room Radisson RED Dubai Silicon Oasis is scheduled to open during the third quarter of 2018. The hotel will be just 14 km from Dubai International Airport, within the 7.2 km² Dubai Silicon Oasis free trade zone.
Hilton Worldwide has signed a management agreement with Hamad Abulaziz Almousa Trading Group for its first Embassy by Hilton hotel in the Middle East. The Embassy by Hilton Riyadh King Fahd Road is expected to open in 2019 with 250 guest rooms, near to Riyadh's upcoming King Abdullah Financial district. "We have been looking for the right opportunity to debut Embassy by Hilton in the region and believe Riyadh makes for a great fit," said Carlos Khneisser, Hilton's vice president of development for the Middle East and North Africa. "Our strategy for growth continues to focus on quality projects, underpinned by strong brands and the best management expertise in the industry. With over 20 years of experience in Saudi Arabia, we are now operating or developing 38 properties with more than 85% of our pipeline under construction," he added.
Meliá Hotels International has announced its first project for the Iranian market. The Gran Meliá Ghoo Hotel is to be housed in a 130-metre-high tower in the Ghoo, Middle East Diamond mixed-use complex in the resort of Salman Shahr, on the Caspian Sea in northern Iran. The 319-room hotel will be the first five-star internationally branded hotel to open in Iran. Commenting on the latest addition to Meliá's pipeline, the group's vice chairman and chief executive officer, Gabriel Escarrer, said, "we have always been pioneers in the development of new markets in the travel and tourism industry, so it is a fantastic challenge for us to be involved in a project which is so important for the future of the industry in this country, in a historic moment for the international relations within the area. We firmly believe in Iran's tourism potential and I am also very proud to have earned the trust of our partners in the management of this hotel, a further demonstration that we are a significant international player for the most prestigious hotel projects anywhere in the world."
Hong Kong-based Shangri-La Hotels and Resorts' latest opening in the Middle East marks its entry to the Qatar market. The 50-storey Shangri-La Hotel, Doha recently open in the Qatari capital's West Bay district, with 272 guest rooms and 42 serviced apartments.
Steigenberger Hotel Group is set to open a new property in Egypt in mid-May. The 610-room Steigenberger Alcazar Resort will sit directly on the Red Sea coast in Sharm El Sheikh. This is group's first hotel in the Sinai Peninsula resort and its eighth in the country overall.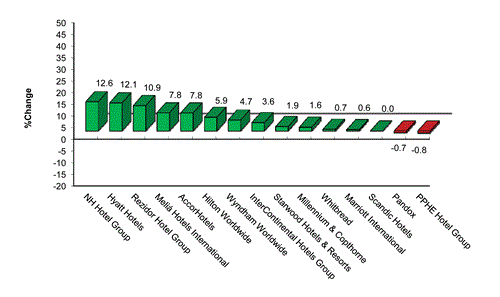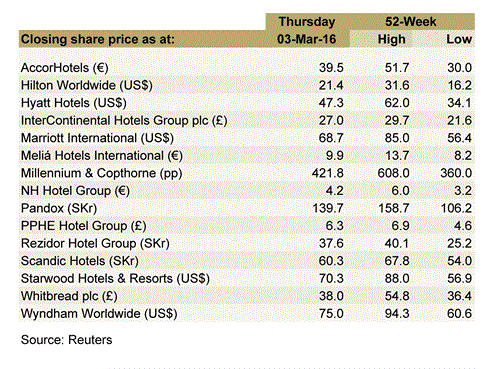 Starwood Hotels & Resorts– Announced a regular quarterly dividend of US$0.375 per share.

Scandic Hotels – Posted an operating profit of €35.3 million for the fourth quarter of 2015.

Hilton Worldwide – Plans to spin off its owned hotels into a REIT, as well as create a separate public timeshare business, resulting in three separate businesses.
For the latest in the hospitality industry, please visit: http://www.hvs.com/. You are also welcome to contact the following personnel.
| | |
| --- | --- |
| Russell Kett, Chairman – HVS London (@russellkett) | rkett@hvs.com |
| Charles Human, CEO – HVS London/HVS Hodges Ward Elliott | chuman@hvshwe.com |
| Simon Tucker Brown, Managing Director – HVS Executive Search Europe & Middle East | stuckerbrown@hvs.com |
| Chris Martin, Senior Director – HVS Hodges Ward Elliott | cmartin@hvshwe.com |
| Puneet Kanuga, Director – HVS Hodges Ward Elliott | pkanuga@hvshwe.com |
| Arlett Oehmichen, Director – HVS London | aoehmichen@hvs.com |
| Sophie Perret, Director – HVS London | sperret@hvs.com |
| Tim Smith, Managing Partner – HVS Cape Town | tsmith@hvs.com |
| Demetris Spanos, Managing Director – HVS Athens | dspanos@hvs.com |
| Hala Matar Choufany, Managing Director – HVS Dubai | hchoufany@hvs.com |
| Ezio Poinelli, Director – HVS Milan | epoinelli@hvs.com |
| Louise Fury, Senior Editor and EMEA Hospitality Newsletter Author – HVS London | lfury@hvs.com |
Disclaimer: Information provided above has been gathered from various market sources. HVS has not independently verified the accuracy of the information provided. Interested parties should not rely on the information as statement of facts and are advised to make their own independent checks to verify the information provided. For further information, please feel free to contact HVS London.
Superior Results through Unrivaled Hospitality Intelligence. Everywhere.
Stay current. Click here to receive free HVS newsletters
Looking for insights into the hospitality industry?
Discover unique hospitality intelligence at hvs.com/publications
Interested in a particular market?
Find hundreds of market overviews, all written by HVS experts, at hvs.com/marketresearch
Like to be in the know on hotel trends and predictions?
See our Hotel Valuation Index for dozens of cities at hvi.hvs.com