Azure Hotels has purchased the Radisson Blu Hotel, Hamburg in northern Germany from Invesco. The sales price was not disclosed but is said to be the largest single asset deal in Germany so far this year. The 556-room hotel is adjacent to the city's botanical gardens; at 108 metres high, the 27-storey property is the tallest hotel in Hamburg. Azure had previously owned the hotel before selling it to Invesco in 2009. Azure has secured a 35-year lease extension for the hotel with the City of Hamburg, in a deal that also involves the refurbishment of the Congress Center Hamburg and its surrounding area.
Australia-based Staywell Hospitality Group has announced its first Park Regis project for Europe. An existing building in the UK city of Birmingham is to undergo a £50 million renovation that will transform it into the Park Regis Birmingham. The 256-key hotel is expected to open in March 2016, becoming the 17th of its brand worldwide.
InterContinental Hotels Group has signed a management agreement with Delta Holding for a hotel in Slovenia. The 165-room InterContinental Ljubljana is expected to open in the Slovenian capital in 2017. Construction is due to start on the hotel before the end of the year.
MEININGER Hotels has signed an agreement for its first property in Spain. A 186-room, 682-bed hotel is due to open on Gran Via in southwest Barcelona by the end of 2018. The hybrid hotel/hostel group currently has 16 properties in operation across ten European cities. A timely announcement ahead of next week's conference...
We hope you are looking forward to the second annual Hostel and Budget Traveller Conference, the b2b conference and exhibition for the hostel, poshtel, budget hotel and budget traveller sectors, which will be taking place next week on 16 and 17 November 2015 at The Montcalm Marble Arch in London. On day one, delegates can enjoy a tour of the MEININGER Hotel London Hyde Park, take part in a speed business card swap and enjoy mingling with other guests over drinks. Additionally, don't miss HVS London's chairman, Russell Kett, who will be chairing the Meet the Leaders panel session, and you can also see Harry Douglass, a senior associate at the London office, present the latest research and statistics from the hostel and budget travel sector. To book your ticket visit www.hostelandbudgettraveller.com.
Four Seasons Hotels and Resorts has opened its second property in Morocco, North Africa: the 186-room Four Seasons Hotel Casablanca, which overlooks the Atlantic Ocean in the Anfa neighbourhood of Morocco's largest city.
Carlson Rezidor Group's Radisson Blu Hotel Nairobi Upper Hill opened this week, becoming the first of its brand in Kenya, East Africa. The 271-room hotel is in the emerging business district of Upper Hill in Nairobi.
An affiliate of Hyatt Hotels Corporation has signed a contract with Kuwait-based conglomerate Tamdeen Group for its first Grand Hyatt property in Kuwait. The 261-room Grand Hyatt Kuwait is scheduled to open in 2020 and will be part of the 360 Mall mixed-use retail and leisure complex in the South Surra area. "Kuwait is increasingly becoming a major gateway city, so we are delighted to announce this plan to bring the Grand Hyatt brand to this global business and cultural hub," said Peter Norman, Hyatt's senior vice president, acquisitions and development for Europe, Africa and the Middle East. Hyatt currently operates four Grand Hyatt-branded properties across the Middle East (in Jordan, the UAE, Qatar and Oman).
The world's second Palazzo Versace hotel opened this week in Dubai, UAE. The Palazzo Versace Dubai is in the emirate's Cultural Village development, and all of the furniture and fabric in its 215 rooms and suites and 169 private residences were designed and tailor-made by the House of Versace. The fashion-branded chain of five-star hotels made its debut in Australia and a further property is in the pipeline for Macao.
Shaza Hotels recently signed a management agreement with Al Rajhi Investments for two new hotels in Saudi Arabia. The 251-key Shaza Makkah is scheduled to open within the next year in Mecca and the 205-key Shaza Riyadh is due to open in 2017 in the Saudi capital. "Following the opening of Shaza Al Madina and the signing of Shaza Jeddah, we have been actively searching for the right opportunities to increase our portfolio of hotels in the Kingdom," said Simon Coombs, president and chief executive of Shaza Hotels. "In close coordination with Al Rajhi Investments, Shaza Hotels are crafting hotels that we hope will be admired for their design, services and people," he added.
Budget group easyHotel announced this week that it has signed a master development partnership with MAN Investments LLC to develop easyHotels across the Middle East, focusing on the UAE and Oman. The hotels are expected to be purpose built or conversions of existing hotels or office space. The target is to open 600 rooms by 2017 and at least 1,600 rooms by the end of 2020.
Rotana has signed an agreement with Golden Group of Companies and Taameer Investment SAOC for the management of five upcoming hotels in Oman. The hotels, which will have a combined room count of approximately 1,500, are expected to open over the next five years in major cities such as Muscat, Sohar and Salalah.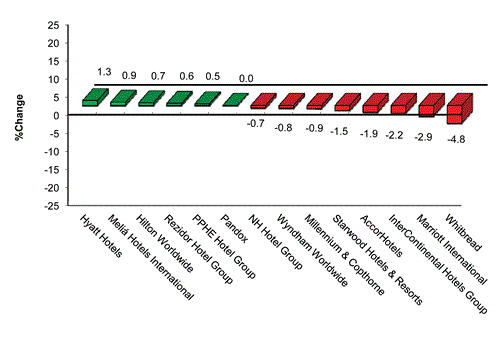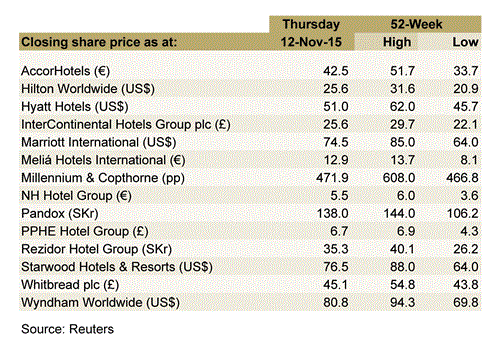 Scandic Hotels Group – Scandic has announced its intention to list on Nasdaq Stockholm, so our readers will be able to see the group in our share price graph from next month.

Meliá Hotels International – Reported an EBITDA growth of 28% and a profit of €52.9 million, owing to a RevPAR rise of 11%, for the third quarter of 2015.

Hilton Worldwide – Announced a quarterly cash dividend of US$0.07 per share of common stock.

For the latest in the hospitality industry, please visit: http://www.hvs.com/. You are also welcome to contact the following personnel.
| | |
| --- | --- |
| Russell Kett, Chairman – HVS London (@russellkett) | rkett@hvs.com |
| Charles Human, CEO – HVS London/HVS Hodges Ward Elliott | chuman@hvshwe.com |
| Simon Tucker Brown, Managing Director – HVS Executive Search Europe & Middle East | stuckerbrown@hvs.com |
| Chris Martin, Senior Director – HVS Hodges Ward Elliott | cmartin@hvshwe.com |
| Puneet Kanuga, Director – HVS Hodges Ward Elliott | pkanuga@hvshwe.com |
| Arlett Oehmichen, Director – HVS London | aoehmichen@hvs.com |
| Sophie Perret, Director – HVS London | sperret@hvs.com |
| Tim Smith, Managing Partner – HVS Cape Town | tsmith@hvs.com |
| Demetris Spanos, Managing Director – HVS Athens | dspanos@hvs.com |
| Hala Matar Choufany, Managing Director – HVS Dubai | hchoufany@hvs.com |
| Ezio Poinelli, Director – HVS Milan | epoinelli@hvs.com |
| Louise Fury, Senior Editor and EMEA Hospitality Newsletter Author – HVS London | lfury@hvs.com |
Disclaimer: Information provided above has been gathered from various market sources. HVS has not independently verified the accuracy of the information provided. Interested parties should not rely on the information as statement of facts and are advised to make their own independent checks to verify the information provided. For further information, please feel free to contact HVS London.
Superior Results through Unrivaled Hospitality Intelligence. Everywhere.
Stay current. Click here to receive free HVS newsletters
Looking for insights into the hospitality industry?
Discover unique hospitality intelligence at hvs.com/publications
Interested in a particular market?
Find hundreds of market overviews, all written by HVS experts, at hvs.com/marketresearch
Like to be in the know on hotel trends and predictions?
See our Hotel Valuation Index for dozens of cities at hvi.hvs.com