Fattal Hotels has made its move into Italy with a hotel purchase in Milan. The Israeli group has acquired the four-star superior, 130-room Hotel Hermitage in Milan city centre for €20.5 million from Italian publishing firm Monrif. The group is also on the cusp of signing a deal to convert and manage a further property in the northern Italian city, a 17,000 m² site adjacent to Milan's central railway station. Furthermore, it was reported that Fattal is also considering other hotel investments in Rome, Venice and Florence.
Mandarin Oriental also recently made its Italian debut in Milan with the opening of the Mandarin Oriental Milan. The 104-room hotel is housed across four 18th-century houses on Via Andegari, close to the iconic Teatro alla Scala opera house.
Staying in Italy, but moving southwards of Milan...NH Hotel Group has signed an agreement for its sixth hotel in the capital, Rome. An historic building close to the city's central railway station, Termini, is to be renovated and converted into a 180-room NH Collection hotel. The four-storey hotel, the third NH Collection property in Rome, is due to open by the end of the year. The Spanish group currently has nine NH Collection hotels in operation across Italy and 54 hotels in the country overall.
Britannia Hotels has acquired the freehold of the Cavendish Hotel in the seaside town of Bournemouth, on England's south coast, for an undisclosed sum. The four-star, 119-room hotel was on the market for £5.5 million. The hotel's 19th-century building is on Eastbourne's promenade, overlooking the resort's four-and-a-half-mile beach. Additionally, the Hotel Sheraton in the resort of Blackpool on northwest England's Irish Sea coast has recently changed hands. Owned and operated by the McPhee family for the past 50 years, the 126-room hotel was purchased by hotelier Nigel Seddon and his family from a guide price of £2.3 million. The hotel will now undergo a £500,000 refurbishment this coming winter. The Seddon family are no strangers to Blackpool as they have owned the Elgin Hotel, a few doors away from the Sheraton, for 46 years.
Hilton Worldwide has formed a strategic development agreement with Primestar Hospitality that will see the pair develop ten hotels across Germany and Austria. The hotels, which will reportedly be branded as Hampton by Hilton properties, will be new builds in city centre locations. The hotels will operate as franchise properties and will be managed by Primestar. The first location to be revealed is Berlin, which will be home to the Hampton by Hilton Alexanderplatz. Commenting on the expansion, Hilton's senior vice president, development, for Africa and Europe, Patrick Fitzgibbon, said, "Signing Hampton by Hilton Berlin Alexanderplatz with Primestar Hospitality earlier this year paved the way for a collaboration of scale in Germany and Austria. Primestar's market knowledge and strategic growth plans give us an enhanced development platform across core German speaking countries, and this agreement promises further penetration in markets which together attract more than 150 million overnight stays per year".
Berlin-based hotel developer and operator Foremost Hospitality has opened its tenth Holiday Inn Express hotel in Germany in Düsseldorf in the west of the country. Constructed in just under a year and a half by Investa Property Group, the 164-room Holiday Inn Express Düsseldorf-City is on Am Wehrhahn, close to the city centre.
Carlson Rezidor is planning its first foray into Slovenia. An existing hotel in the capital Ljubljana is to be converted into the Radisson Blu Plaza Hotel, Ljubljana. The 236-room property is scheduled to open later this year, bringing the group's worldwide presence up to 79 countries.
Hilton Worldwide has opened its fifth DoubleTree by Hilton hotel in Spain. The DoubleTree by Hilton Resort & Spa Reserva del Higueron is the first of its brand on Spain's Costa del Sol. The 177-room Mediterranean resort is close to both Malaga and Marbella. Additionally, Starwood Hotels & Resorts has signed an agreement with Pheonix Enterprises for its third Westin property in Spain. The La Quinta Golf & Spa Resort in Benahavis, close to the coast and Marbella, has previously operated as a Westin property; the hotel will be rebranded as the 172-room Westin La Quinta Golf Resort & Spa Resort on 1 March 2016, becoming the 18th Westin hotel in Europe.
Czech company Le Hotels Group, a subsidiary of Le-Investment, Spol, has purchased the four-star, 196-room Hotel Yasmin in Prague's Old Town for an undisclosed sum from business men Ivan Chadima and Peter Joseph Donnelly. Le Hotels now has four properties in the Czech capital.
Luxury hotel, rail and river cruise company Belmond Ltd (formerly Orient Express) has announced that Philippe Cassis is to take on the role of executive vice president and chief operating officer with the group. Cassis previously worked as chief executive officer at Sun Resorts Ltd, and before this he spent 28 years with Starwood Hotels & Resorts. "Philippe has a proven 30-year track record in the luxury travel industry," said Belmond's president and chief executive officer, John M Scott. "He will add deep operational strength to our senior management team and will be invaluable to our near term business execution going forward," he continued.
Guy Parsons, the former chief executive of Travelodge, is to take the helm of another budget chain, easyHotel. It was announced this week that easyHotel's current chief executive, Simon Champion, will be stepping down from the post after two years to explore other interests, with Parsons named as his successor. Parsons has 25 years' experience in the hotel and leisure industry, formerly working at Accor and Whitbread before joining Travelodge. easyHotel currently owns three hotels and franchises 17 properties.
Rotana has signed an agreement with Bin Yousef Group for its 16th property in Dubai and its 35th in the United Arab Emirates overall. the group's new project is a 598-key complex that will include a five-star hotel and serviced apartments. Rotana currently has a room stock of 3,988 units in Dubai.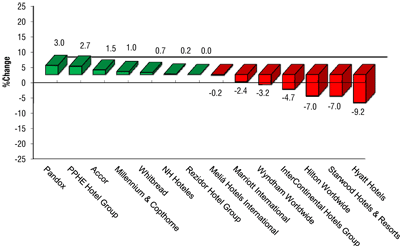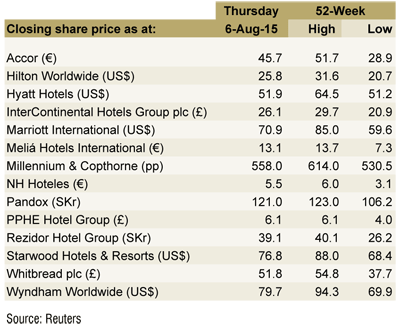 Accor – Reported a rise in net profit for the first half of 2015 to €91 million compared to €54 million over the same period in 2014.

Millennium & Copthorne – Signed a frequent flyer global agreement with Saudi Arabia's national carrier, Saudia.

NH Hoteles – Second-quarter revenue rose by 6.8% and recurring net profit reached €15.7 million.

For the latest in the hospitality industry, please visit: http://www.hvs.com/. You are also welcome to contact the following personnel.
| | |
| --- | --- |
| Russell Kett, Chairman – HVS London (@russellkett) | rkett@hvs.com |
| Charles Human, CEO – HVS London/HVS Hodges Ward Elliott | chuman@hvshwe.com |
| Simon Tucker Brown, Managing Director – HVS Executive Search Europe & Middle East | stuckerbrown@hvs.com |
| Chris Martin, Senior Director – HVS Hodges Ward Elliott | cmartin@hvshwe.com |
| Puneet Kanuga, Director – HVS Hodges Ward Elliott | pkanuga@hvshwe.com |
| Arlett Oehmichen, Director – HVS London | aoehmichen@hvs.com |
| Sophie Perret, Director – HVS London | sperret@hvs.com |
| Tim Smith, Managing Partner – HVS Cape Town | tsmith@hvs.com |
| Demetris Spanos, Managing Director – HVS Athens | dspanos@hvs.com |
| Hala Matar Choufany, Managing Director – HVS Dubai | hchoufany@hvs.com |
| Ezio Poinelli, Director – HVS Milan | epoinelli@hvs.com |
| Louise Fury, Senior Editor and EMEA Hospitality Newsletter Author – HVS London | lfury@hvs.com |
Disclaimer: Information provided above has been gathered from various market sources. HVS has not independently verified the accuracy of the information provided. Interested parties should not rely on the information as statement of facts and are advised to make their own independent checks to verify the information provided. For further information, please feel free to contact HVS London.
Superior Results through Unrivaled Hospitality Intelligence. Everywhere.
Stay current. Click here to receive free HVS newsletters
Looking for insights into the hospitality industry?
Discover unique hospitality intelligence at hvs.com/publications
Interested in a particular market?
Find hundreds of market overviews, all written by HVS experts, at hvs.com/marketresearch
Like to be in the know on hotel trends and predictions?
See our Hotel Valuation Index for dozens of cities at hvi.hvs.com