Starwood Hotels & Resorts has sold the Gritti Palace in Venice, Italy, to Qatar-based Nozul Hotels & Resorts for €105 million (approximately €1.3 million per room). Nozul, which also owns the W Doha Hotel & Residences, was represented by HVS Hodges Ward Elliott for the transaction. Part of Starwood's Luxury Collection brand, the 82-room Gritti Palace re-opened in 2013 after a 15-month, €40 million renovation. The property dates from 1525, when it was built as the palatial residence of Doge Andrea Gritti.
Advised by HVS Hodges Ward Elliott, Qatar Airways has purchased the four-star, 170-room Novotel Edinburgh Park, near to Edinburgh Airport in Scotland, for an undisclosed sum. The hotel, which benefits from a tram link to both Edinburgh city centre and the airport, will continue to operate under Accor's Novotel brand. The deal marks Qatar Airways' second hotel acquisition in the UK, following its purchase of the 350-room Sheraton Skyline Hotel at London's Heathrow Airport earlier this year.
Northern Ireland-based hotel owner and operator Hastings Hotels has acquired a 22-storey former office block in Belfast for £6.5 million and plans to convert the building into a hotel. Ireland's National Asset Management Agency took control of Windsor House, reportedly the tallest commercial building in Ireland, in 2012 after the building's owner fell into administration. Hastings plans to submit planning application for the project within the next few weeks.
Carlson Rezidor has announced its fourth hotel for Estonia. The former Meriton Grand Conference & Spa Hotel in Talllinn is to become the Park Inn by Radisson Meriton on 1 June 2015. The 465-room hotel, adjacent to Tallinn's UNESCO World Heritage Site Old Town, was built in 1963 and underwent a full refurbishment in 2007. The hotel, which is owned by Meriton Hotels AS, will undergo a further partial renovation over the course of the next year. Rezidor now operates 1,380 rooms in Estonia and 3,488 rooms (14 hotels) across the Baltics.
After emerging from a recent renovation, the Steigenberger Grandhotel in Brussels, Belgium, is now having a name change. The hotel, which has gone by many monikers over its lifetime, is reverting to its original name, Steigenberger Wiltcher's, which it previously held from 1913 to 1925. The five-star, 267-room property was named after Sydney Charles Wiltcher, who was commissioned to work on the building in the early 20th century.
Hilton Worldwide has opened a new Hampton by Hilton property in the UK in the seaside resort of Bournemouth: the eight-storey, 120-room Hampton by Hilton Bournemouth, which is part of a dual hotel project – a 13-storey, 172-room Hilton hotel is due to open adjacent to the site this winter. Both hotels are owned by London-based property firm THAT Group.
Leonardo Hotels, the European division of Israeli Fattal Hotels Group, is expanding into Spain with a hotel in Barcelona. As of 1 July 2015, Leonardo will run the three-star Hotel Principal. The 110-room hotel is due to close from November 2015 to February 2016 to undergo an extensive renovation. Leonardo is to invest several million euro in the property. It will reopen as the four-star Leonardo Hotel Las Ramblas Barcelona, representing the group's first foray into Spain. Additionally, Leonardo opened its first hotel in the UK in London earlier this March and it looks like further growth in the UK is on the cards, as it was reported this week that the group is in negotiations to operate a four-star hotel currently being developed in a former registry office in Edinburgh. Developer Jansons is scheduled to start work on the £45 million project in the next few weeks and the hotel is expected to open near the end of 2016.
Travelodge opened its third hotel in the UK port of Southampton this week. Additionally, at the launch of the £6 million 94-room Travelodge Southampton West Quay the budget group announced that it plans to invest £84 million in developing 14 new hotels at port locations across the UK, including a fourth property in Southampton and hotels in Portsmouth, Plymouth, Liverpool, Newcastle and Harwich. The group aims to capture demand from the country's burgeoning cruise and ferry business, with significant investments taking place at ports across the country. "Our port based hotels have seen a 9% rise in occupancy as Britons kick start their dream sea holiday by staying over in a Travelodge hotel prior to early embarkation," commented Paul Harvey from Travelodge.
Meliá Hotels International has announced a new hotel for Valencia, on Spain's Mediterranean coast, that will operate under a franchise agreement for Wyndham Worldwide's TRYP by Wyndham brand. The Vora Fira, an existing hotel in Valencia, Spain's third largest city, will be rebranded this June as the TRYP Valencia Vora Fira. The 127-room is adjacent to Valencia's trade fair and ten minutes from the airport.
Have you booked your ticket yet for this year's Boutique and Lifestyle Hotel Summit? With just a week to go, the conference will run from next Thursday to Friday, 20 and 21 May, at the Montcalm in London. HVS is one of the event's sponsors and Charles Human, chief executive officer of HVS's London operations and managing director of HVS Hodges Ward Elliott, will be moderating a panel called Meet the Investors. There is a diverse line up of speakers and the conference also offers the opportunity to visit some of London's hippest boutique hotels. For more information or to book your ticket, click here.
After undergoing an extensive makeover and renovation, the former Nile Hilton hotel in Cairo, Egypt, is set to reopen this summer under the Ritz-Carlton banner. The 331-room Nile Ritz-Carlton Cairo will mark the first appearance of the brand in Egypt. Commenting on the latest addition to Ritz-Carlton's portfolio, the group's president and chief operations officer, Hervé Humler, said, "By complementing the property's natural strengths with our focus on bespoke service, diverse experiences and rich memories, we aim to reinstate the hotel as pride of national tourism in the country".
BlueBay Group has opened its first property in Morocco in Marrakech: the Blue Diamond Sahara Palace. As well as 161 suites, the resort also includes four riads containing a further 36 suites. This is the second property worldwide to open under BlueBay's Blue Diamond five-star luxury resort chain. Additionally, Swiss chain Mövenpick Hotels & Resorts has announced a new hotel for the historic city, its third property overall in Morocco. An existing hotel owned by Kuwait-based Al Ajial Asset Fund is to undergo an extensive renovation and expansion before it reopens as the Mövenpick Hotel & Palais des Congrès in the fourth quarter of 2015. The hotel is directly connected to the Palais des Congrès, Morocco's largest convention centre, which will also be operated by Mövenpick.
Hyatt Hotels Corporation has continued with the expansion of its Hyatt place brand outside of the USA with its latest opening in Morocco marking the entry of the brand into Africa. The 152-room Hyatt Place Taghazout Bay is part of the US$1 billion Taghazout Bay Resort development, just 17 km north of Agadir on the Atlantic coast. The 152-room hotel is the third Hyatt Place to open in the EMEA region. Hyatt currently operates a further three hotels across Africa under its Hyatt Regency brand and it plans to double its portfolio on the continent over the next three years.
Millennium & Copthorne has opened its second hotel in Kuwait. The five-star, 295-room Millennium Hotel & Convention Centre Kuwait is targeting the MICE market, with 21 function rooms and a ballroom. Millennium also recently announced that it has signed agreements for four new hotels in Dubai (three Studio M properties and a Millennium hotel). The group's expansion plan for the MENA region aims to have 50 hotels in operation across the Middle East and Africa over the next three years.
Hyatt Hotels Corporation has announced that one of its affiliates has signed an agreement with Abdulelah Mohammed Ali Maghrabi Commercial that will see the group open two new hotels in Saudi Arabia. The 104-room Hyatt House Jeddah/Sari Street is due to open in the fourth quarter of 2016, and, less than a mile away, the 182-room Hyatt Place Jeddah/Medina Road is scheduled to open during the second quarter of 2017. Hyatt currently operates one hotel in Saudi Arabia, the 182-room Park Hyatt Jeddah – Marina, Club and Spa, and this new signing sees the first appearance of the Hyatt Place and Hyatt House brands in the kingdom.
Action Hotels plans to convert an office tower in Saudi Arabia into a 130-room hotel. The new property is scheduled to open in Riyadh's Olaya district in the second quarter of 2016. The Kuwait-based group also recently announced strong financial results for the full-year 2014. Total reported revenue increased by 26% on 2013 to US$37.6 million and adjusted EBITDA rose by 34% to US$11.3 million. The group added 300 rooms to its pipeline last year, bringing its total room count to 1,332 rooms. The first quarter of 2015 has seen a continuation of this positive trend, with a 3% growth in average rate and a 22% increase in revenue on the same period in 2014.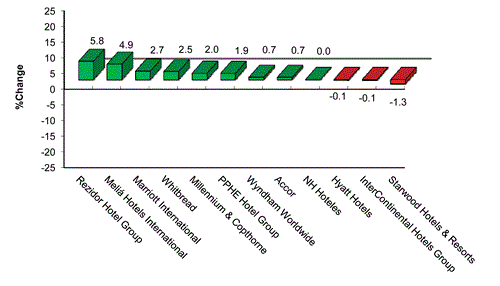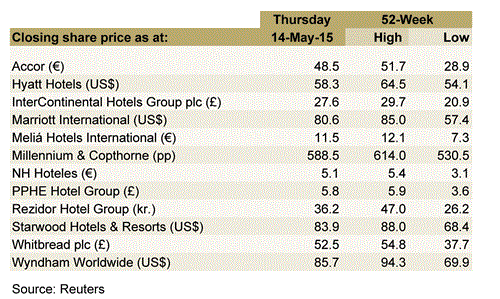 InterContinental Hotels Group – Exane BNP Paribas retained its "underperform" rating and raised the share price target from 2,300p to 2,550p.

Meliá Hotels International – Doubled profits and improved in all regions, with 14% growth in revenue and EBITDA, over the first quarter of 2015.

Whitbread – Fitch Ratings has affirmed Whitbread's long-term issuer default rating at "BBB" with a stable outlook.
For the latest in the hospitality industry, please visit: http://www.hvs.com/. You are also welcome to contact the following personnel.
| | |
| --- | --- |
| Russell Kett, Chairman – HVS London (@russellkett) | rkett@hvs.com |
| Charles Human, CEO – HVS London/HVS Hodges Ward Elliott | chuman@hvshwe.com |
| Simon Tucker Brown, Managing Director – HVS Executive Search Europe & Middle East | stuckerbrown@hvs.com |
| Chris Martin, Senior Director – HVS Hodges Ward Elliott | cmartin@hvshwe.com |
| Puneet Kanuga, Director – HVS Hodges Ward Elliott | pkanuga@hvshwe.com |
| Arlett Oehmichen, Director – HVS London | aoehmichen@hvs.com |
| Sophie Perret, Director – HVS London | sperret@hvs.com |
| Tim Smith, Managing Partner – HVS Cape Town | tsmith@hvs.com |
| Demetris Spanos, Managing Director – HVS Athens | dspanos@hvs.com |
| Hala Matar Choufany, Managing Director – HVS Dubai | hchoufany@hvs.com |
| Ezio Poinelli, Director – HVS Milan | epoinelli@hvs.com |
| Louise Fury, Senior Editor and EMEA Hospitality Newsletter Author – HVS London | lfury@hvs.com |
Disclaimer: Information provided above has been gathered from various market sources. HVS has not independently verified the accuracy of the information provided. Interested parties should not rely on the information as statement of facts and are advised to make their own independent checks to verify the information provided. For further information, please feel free to contact HVS London.
Superior Results through Unrivaled Hospitality Intelligence. Everywhere.
Stay current. Click here to receive free HVS newsletters
Looking for insights into the hospitality industry?
Discover unique hospitality intelligence at hvs.com/publications
Interested in a particular market?
Find hundreds of market overviews, all written by HVS experts, at hvs.com/marketresearch
Like to be in the know on hotel trends and predictions?
See our Hotel Valuation Index for dozens of cities at hvi.hvs.com