Meliá Hotels International and Starwood Capital have formed a joint venture that will see Starwood invest €176 million for a majority share in seven of Meliá's largest resort hotels in Spain (€60,000 per room). A controlled affiliate of Starwood Capital will hold an 80% stake in the 799-room Sol Principe (Malaga), the 343-unit Sol Lanzerote and 562-room Meliá Gorriones (Fuerteventura, Canary Islands), the Sol Beach House Ibiza and 254-room Sol Pinet Playa (Ibiza) and the Sol Mirlos and Sol Tordos (Palmanova, Majorca). Meliá will retain a 20% stake in the properties and will continue to manage the hotels. The joint venture is to invest approximately €30 million in a renovation of the hotels over the next two years and will re-launch the Sol brand. Further hotels, either owned by Meliá or third parties, are to be purchased by the joint venture. "The know-how and managerial excellence of Meliá combined with the financial strength and property expertise of Starwood will create a partnership that will develop and deepen over time, and will also help improve our balance sheet and consolidate our leadership in the growing international resort industry," commented Gabriel Escarrer, chief executive officer of Meliá Hotels International.
Deka Immobilien has purchased Le Méridien Munich in Germany from Kildare Partners and a Luxembourg-based administrator for €158 million. The sale of the 381-room hotel, which opened in 2002 at the heart of the Bavarian capital, is subject to an existing long-term lease with Starman Hotels. The transaction reportedly represents the largest single asset hotel sale to take place in Germany in the last 15 years.
French real estate group Foncière des Murs (FDM) has acquired a portfolio of 22 B&B hotels across Germany for €128 million (2,271 rooms, €56,000 per room) from a B&B Hotels partner, Carlyle. This is the third budget hotel portfolio FDM has purchased recently: the firm acquired a group of Motel One hotels in Germany at the beginning of 2015, and last year it formed an agreement with MEININGER Hotels to purchase properties across major European cities.
With just under three weeks to go until Henry Stewart's Hotel Operating Agreements conference on 26 March at the Radisson Blu Portman Hotel in London, there is still time to book a place if you haven't already. HVS newsletter readers are entitled to a 20% discount for the event. When booking please enter discount code HVS20. HVS will be there…Arlett Oehmichen, a director at HVS London, is to lead a session called Franchise and Management Operating Agreements in the Current Market – How do They Differ, What's Better and When?. Amongst many other topics, this year's event will cover Current Thinking on Performance Measurement and Benchmarking, What Constitutes State-of-the-Art/Best Practice Marketing Now, Agreeing the Annual Budget in the Current Market, and A Practical Guide to Formulating an Exit Strategy. Click here to book your place.
MCAP Global Finance has acquired the DoubleTree by Hilton Hotel & Spa Chester for an undisclosed sum from Sanguine Hospitality and funds managed by Downing Capital. Valor Hospitality Europe, a newly formed management company, will take on the operation of the 140-room hotel. The property dates back to 1757 and was converted into a hotel in 1982; it was refurbished and rebranded as a DoubleTree by Hilton in 2009.
Dubai-based Jumeirah Group has signed a management agreement with Targets Investment Turizm Isletmeleri AS that will see it open its second property in Turkey. The Golden Savoy at Zeytinlikahve Cove in Bodrum, in southwestern Turkey, will operate as the Jumeirah Bodrum Palace Hotel as of 1 May 2015. The luxury, 110,000-square metre hotel has suites and villas containing 135 rooms and the six-room Palace building, where guests have 24-hour access to a dedicated butler service. Jumeirah made its debut in Turkey with the opening of the Pera Palace Hotel Jumeriah in Istanbul in 2011. The group currently has a worldwide portfolio of 23 hotels with a further 26 hotels under contract. Also in Turkey this week, Starwood Hotels & Resorts' St. Regis brand has announced that it will make its first appearance in the country later this month with the opening of the St. Regis Istanbul. The 118-room hotel overlooks the Bosphorus on the European side of the city.
In partnership with Stena Fastigheter, the owner of the Scandic Sergal Plaza hotel in Stockholm, Sweden, Nordic operator Scandic Hotels plans to renovate the 403-room hotel and transform it into a 420-room "city resort" with 2,300 square metres of food and beverage and conference facilities, the first of its kind in Stockholm. The renovation of the hotel, which has been operated under the Scandic brand since 2007, is due to start in 2016 and the city resort is expected to open in spring 2017.
Hilton Worldwide signed agreements this week to launch its first Curio – A Collection by Hilton properties in Europe by rebranding two historic hotels in Germany and Turkey. The 115-year-old Reichshof Hamburg, owned and operated by RH Operations GmbH & Co. KG, will be the first to be rebranded. The hotel is currently undergoing a €30 million renovation from which it will emerge as part of the Curio collection in the second quarter of 2015 with 280 rooms. The seven-storey Rumeli Han Istanbul is to undergo a renovation before it reopens as a Curio hotel in 2017 with 173 rooms.
InterContinental Hotels Group (IHG) has signed a multiple development agreement with Interstar, a first-time franchisee with IHG, for the creation of ten hotels (around 1,700 rooms) in Germany by 2019. The hotels will be operated under IHG's Holiday Inn and Holiday Inn Express brands. The first hotel to open under the agreement will be the 288-room Holiday Inn Frankfurt – Airport in the fourth quarter of 2016.
Hilton Worldwide has signed a franchise agreement with Interstar Hotel GmbH for a new Hampton by Hilton hotel in Berlin, Germany (there is currently one Hampton by Hilton operating in the German capital). Once open at the start of 2018, the hotel will become the group's largest Hampton by Hilton hotel to-date. The 344-room Hampton by Hilton Berlin Alexanderplatz is to be developed in the city centre, 400 metres from Alexanderplatz square. Hilton now has 90 Hampton by Hilton properties either in operation or under development in Europe. Hilton has also officially opened its first Hampton by Hilton property in the city of Newcastle upon Tyne, in northwest England: the 160-room Hampton by Hilton Newcastle, which is being managed by US-based Interstate Hotels & Resorts on behalf of Baron House Hotel Ltd.
Louvre Hotels Group has signed three franchise agreements with hotel and resort manager Daguisa Group that will see the French group enter the landlocked Principality of Andorra, between France and Spain in southwest Europe, taking its presence up to 47 countries. Three hotels in the centre of Andorra will open under Louvre brands following extensive renovation work. The 170-room Hotel Comtes d'Urgell will become a Kyriad property, the 180-room Hotel Delphos is to be rebranded as a Tulip Inn and the 120-room Hotel Fenix will join the Golden Tulip family.
Carlson Rezidor Hotel Group is to open its first property in Togo, in West Africa, in partnership with Kalyan Development Togo Sau. The 36-floor Hotel du 2 Février, the tallest building in the capital, Lomé, is currently undergoing a renovation and will emerge in the fourth quarter of 2015 as the 320-room Radisson Blu Hotel du 2 Février. Elie Younes, executive vice president and chief development officer at Rezidor, and HVS alumnus, commented that the new signing further strengthens the group's network in Africa and "will also provide economic and social contributions by becoming a social anchor in the city and providing employment opportunities to its community". Rezidor also announced the development of its 15th Radisson Blu hotel in the UK. The Radisson Blu Hotel, Birmingham Airport is due to open at the main entrance of the airport, just 600 metres away from the terminal buildings. The 220 rooms hotel will be developed and owned by UK-based Walnut Hotel Holdings Ltd.
Hilton Worldwide has signed a franchise agreement with Africa Hospitality Investments for its first hotel in the Democratic Republic of Congo, in west central Africa. The former French Embassy in the capital, Kinshasa, will undergo extensive refurbishment before opening as the DoubleTree by Hilton Kinshasa – The Stanley in 2016. The 96-room hotel will be in the city's business district, Gombe. Hilton has also signed management agreements for three new Garden Inn properties in the Middle East. In Saudi Arabia's Eastern Province, Hilton got together with Al Jazeera Group for the 166-room Hilton Garden Inn Al Ahsa, in the oasis of Al Ahsa , and the 154-room Hilton Garden Inn Al Khobar King Fahd Causeway, in the city of Al Khobar on the Persian Gulf. Both hotels are due to open in 2016. In Dubai, Hilton signed an agreement with AIG Investments for the 336-room Hilton Garden Inn Dubai Al Jadaf, which is expected to open in early 2017, in the west of the emirate in Al Jadaf.
Saudi Arabia-based tourism firm Al-Tayyar Group Holding Company has purchased a five-star hotel in the Saudi Arabian city of Mecca for US$400 million. The 24-storey, 759-room hotel is close to the city's Grand Mosque. The sale of the hotel, which will now undergo a renovation, is said to be in line with Al-Tayyar's strategy to develop its accommodation offer to the Hajj and Umrah sector.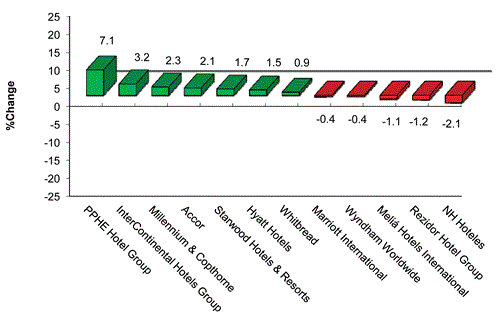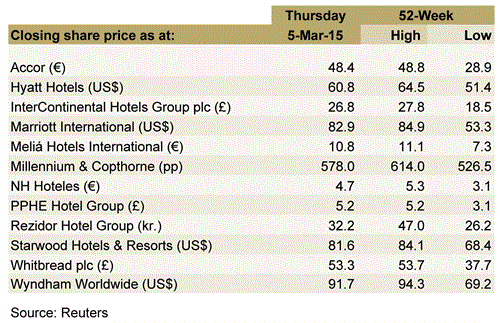 PPHE Hotel Group – finnCap reiterated corporate rating and raised target price from 582p to 605p.

InterContinental Hotels Group – Released a report unveiling the scale of China outbound opportunity.

Starwood Hotels & Resorts – According to a press release the group is looking to expand its portfolio by 30 per cent.



For the latest in the hospitality industry, please visit: http://www.hvs.com/. You are also welcome to contact the following personnel.
| | |
| --- | --- |
| Russell Kett, Chairman – HVS London (@russellkett) | rkett@hvs.com |
| Charles Human, CEO – HVS London/HVS Hodges Ward Elliott | chuman@hvshwe.com |
| Simon Tucker Brown, Managing Director – HVS Executive Search Europe & Middle East | stuckerbrown@hvs.com |
| Chris Martin, Senior Director – HVS Hodges Ward Elliott | cmartin@hvshwe.com |
| Puneet Kanuga, Director – HVS Hodges Ward Elliott | pkanuga@hvshwe.com |
| Arlett Oehmichen, Director – HVS London | aoehmichen@hvs.com |
| Sophie Perret, Director – HVS London | sperret@hvs.com |
| Tim Smith, Managing Partner – HVS Cape Town | tsmith@hvs.com |
| Demetris Spanos, Managing Director – HVS Athens | dspanos@hvs.com |
| Hala Matar Choufany, Managing Director – HVS Dubai | hchoufany@hvs.com |
| Ezio Poinelli, Director – HVS Milan | epoinelli@hvs.com |
| Louise Fury, Senior Editor and EMEA Hospitality Newsletter Author – HVS London | lfury@hvs.com |
Disclaimer: Information provided above has been gathered from various market sources. HVS has not independently verified the accuracy of the information provided. Interested parties should not rely on the information as statement of facts and are advised to make their own independent checks to verify the information provided. For further information, please feel free to contact HVS London.
Superior Results through Unrivaled Hospitality Intelligence. Everywhere.
Stay current. Click here to receive free HVS newsletters
Looking for insights into the hospitality industry?
Discover unique hospitality intelligence at hvs.com/publications
Interested in a particular market?
Find hundreds of market overviews, all written by HVS experts, at hvs.com/marketresearch
Like to be in the know on hotel trends and predictions?
See our Hotel Valuation Index for dozens of cities at hvi.hvs.com