Accor is to open seven new ibis hotels in the UK starting with four ibis Styles properties this year: a 112-room hotel in Crewe, a 117-room hotel in Barnsley, a 102-room hotel in Haydock and a 166-room hotel at Birmingham NEC. Each of these hotels will be operated by Kew Green Hotels and opened under a franchise agreement with Carillion. Early next year will see the opening of a new-build, 47-room ibis Styles on the Greenwich peninsula under a franchise agreement with Conqueror Holdings. Later, in summer 2016 another ibis Styles will open, this time at London Heathrow airport. This hotel will open as part of a franchise agreement and will have 140 rooms. Finally, and with no current opening date, the 196-room ibis London Canning Town will open in the Hallsville Quarter development as part of a mixed-use scheme by Bouygues Development. Accor's managing director for UK and Ireland, Thomas Dubaere, commented, "These new ibis and ibis Styles hotels signal our ambition to strengthen the ibis brands in the UK. The franchise deal for Crewe, Barnsley, Haydock, Birmingham and Greenwich not only reflects the strength of the ibis Styles brand, but recognises our excellent position as a franchise partner."
Tune Group has opened the doors to the 130-room Tune Hotel Canary Wharf and announced that this marks the beginning of a push of its low-cost presence in London. Next on the list is the group's sixth London Tune hotel which is due to open in Shoreditch in 2016 as part of a reported £40 million investment in the capital and a £200 million investment in the UK overall in a bid to reach their target of 25 new Tune hotels in the UK by 2020. Mark Lankester, group CEO of Tune Hotels Group, commented, "London is where we started in the United Kingdom and remains the heart of our expansion into the regions of the UK. There is no foreseeable saturation point for Tune Hotels in London as the capital offers so many locations where our value for money concept would be welcomed by domestic and international travellers alike. For this reason, London will continue to form a crucial part of our overall UK plans for growth."
Marriott Hotels has opened its first hotel in the French city of Lyon. The 204-room Lyon Marriott Hotel Cité Internationale joins 26 other Marriott hotels in France. There are plans for the hotel to be fully renovated this year which will be managed by owners, Les Clés du Luxe. The hotel will remain open while the guest rooms, meeting space, fitness centre and restaurant are all updated alongside the creation of a new bar. Michel Miserez, area vice president, Western Europe, said of the new hotel, "This major expansion into the international city of Lyon once again demonstrates the remarkable commercial power of our network, owing to a growing number of owners who place their trust in us." Heading north to Paris brings us the news of a new property from AC Hotels by Marriott. Groupe Ségur has opened the four-star, 122-room AC Hotel Paris Le Bourget Airport. The hotel joins other AC-branded properties in France, including the 152-room AC Paris Porte Maillot, the 196-room AC Hotel Ambassadeur Antibes-Juan les Pins and the 121-room AC Hotel Nice.
Spanish hotel group, Único Hotels, has opened a new five-star boutique hotel: the Principal Madrid Hotel. The 76-room hotel is housed in a renovated palatial building dating back to 1917. The group, owned by hotelier Pau Guardans, operates two other hotels in Spain: the 44-room boutique Hotel Único Madrid and the 147-room Grand Hotel Central in Barcelona.
British-owned, Dubai-based hotel developer, The First Group, currently has two new luxury hotels under development in Dubai Marina. The 497-room Wyndham Dubai Marina and The One Dubai Marina will each be managed by Wyndham Hotel Group. Chief Operating Officer of The First Group, Rob Burns, said, "Our first development in Dubai Marina, Wyndham Dubai Marina, is fast approaching completion. Due to the expected success of this property, we decided to launch another project, The One Dubai Marina, which is located opposite the Dubai Marina Yacht Club. We have no doubt Dubai Marina's status as one of the city's most exciting and popular real estate precincts will help drive the success of our two developments."
Work is due to start on a new, luxury Fairmont Hotels and Resorts property in Bahrain. The five-star, 215-room Fairmont Bahrain Resort is expected to open in 2018 as part of the Al Jazair mixed-use project. The hotel will be the product of the signing of a Memorandum of Understanding between Bahrain's Sovereign Wealth Fund, the Bahrain Mumtalakat Holding Company, and FRHI Hotels and Resorts. FRHI Hotels and Resorts Fairmont brand president, Jennifer Fox, commented, "Bahrain has one of the fastest growing economies in the Middle East and is a country that continues to diversify with a strong focus on residential, leisure and retail opportunities. With the government's plans to develop the southern area into a major residential, commercial and entertainment hub, we believe it's a very opportune time to be entering the market and look forward to being a key part of the country's future growth."
It has been reported that the 206-room Concorde Hotel Fujairah is to be rebranded and renamed as the Fujairah Concorde by One to One. This is following the signing of a management contract with the operator and the hotel's owning company Hamad Suhail Al Kaily Est. From the beginning of March, the hotel, which was taken over by Swiss International Hotels and Resorts last December, will be operated by One to One Hotels & Resorts under its Elite brand. Other hotels currently in One to One's pipeline include the 90-room One to One Suites Dhour Choueir, Lebanon, the 200-room One to One Marina Beach Wellness Resort in Tétouan, Morocco (both due to open this year) and a 250-room wellness resort in Batroun, Lebanon (due to open next year).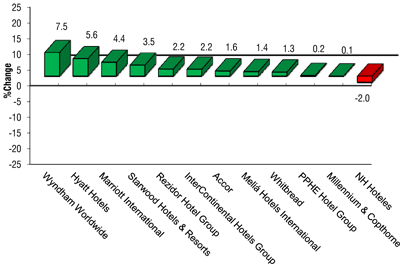 NH Hoteles – A SWOT analysis showed that the hotel group's strengths included its portfolio of hotels, renowned brands and strong industry recognitions.

Starwood Hotels & Resorts – Declared a first quarter dividend of US$0.375 per share.

Millennium & Copthorne – Reported that the group is well positioned to further improve its operating performance in 2015.

For the latest in the hospitality industry, please visit: http://www.hvs.com/. You are also welcome to contact the following personnel.
| | |
| --- | --- |
| Russell Kett, Chairman – HVS London (@russellkett) | rkett@hvs.com |
| Charles Human, CEO – HVS London/HVS Hodges Ward Elliott | chuman@hvshwe.com |
| Simon Tucker Brown, Managing Director – HVS Executive Search Europe & Middle East | stuckerbrown@hvs.com |
| Chris Martin, Senior Director – HVS Hodges Ward Elliott | cmartin@hvshwe.com |
| Puneet Kanuga, Director – HVS Hodges Ward Elliott | pkanuga@hvshwe.com |
| Arlett Oehmichen, Director – HVS London | aoehmichen@hvs.com |
| Sophie Perret, Director – HVS London | sperret@hvs.com |
| Tim Smith, Managing Partner – HVS Cape Town | tsmith@hvs.com |
| Demetris Spanos, Managing Director – HVS Athens | dspanos@hvs.com |
| Hala Matar Choufany, Managing Director – HVS Dubai | hchoufany@hvs.com |
| Ezio Poinelli, Director – HVS Milan | epoinelli@hvs.com |
| Lesley Parrott, Junior Editor and EMEA Hospitality Newsletter Author – HVS London | lparrott@hvs.com |
Disclaimer: Information provided above has been gathered from various market sources. HVS has not independently verified the accuracy of the information provided. Interested parties should not rely on the information as statement of facts and are advised to make their own independent checks to verify the information provided. For further information, please feel free to contact HVS London.
Superior Results through Unrivaled Hospitality Intelligence. Everywhere.
Stay current. Click here to receive free HVS newsletters
Looking for insights into the hospitality industry?
Discover unique hospitality intelligence at hvs.com/publications
Interested in a particular market?
Find hundreds of market overviews, all written by HVS experts, at hvs.com/marketresearch
Like to be in the know on hotel trends and predictions?
See our Hotel Valuation Index for dozens of cities at hvi.hvs.com