Two UK hotels put on the market at the same time last year by administrators have now been sold. Frankfurt-based investment group Deka Immobilien has purchased the Radisson Blu Hotel, Edinburgh for an undisclosed sum on behalf of WestInvest's TargetSelect Hotel fund. The 238-room hotel, on Edinburgh's Royal Mile, with its 16th-century façade had a guide price of £59 million. The sale, which also included a youth hostel, a retail unit and a development site, is thought to be the biggest hotel transaction in Scotland since the sale of the Radisson SAS in Glasgow in 2007 (which sold for £68 million). UK-based Ability Group has acquired the Park Inn by Radisson Manchester City Centre for an undisclosed sum. The 252-room hotel, across the street from the Manchester Arena, was for sale with a guide price of £20 million. Both hotels are leased to Rezidor Hotel Group.
Middle Eastern property development firm Royal Gulf has bought Beetham Hotels Birmingham (BHM) out of administration for an undisclosed sum. BHM held the leasehold of the Radisson Blu Hotel, Birmingham in England's Midlands region. The 211-room hotel, in Birmingham city centre, continued to trade profitably over the three years its owning company was under control of administrators. Rezidor Hotel Group will continue to manage the 39-storey hotel.
HVS is delighted to be sponsoring Hotel Alternatives 2015, the inaugural conference looking at the investment case for emerging accommodation segments. The conference, to be held at London's Jumeirah Carlton Tower on Tuesday 3 February, will compare and contrast the opportunities and challenges of the different types of "buildings with beds". The event is being organised by Hotel Analyst, the business information service for hotel investors, and more information about the programme is available at www.hotelalternatives.net. Among the speakers is HVS London's chairman, Russell Kett, who will be expounding on the investment case for serviced apartments. "The era of being a specialist sitting in an isolated silo is over. Hotel investment professionals need to understand the wider context of their investment decisions," said Andrew Sangster, founder and editorial director of Hotel Analyst. Readers of HVS EMEA Hospitality Newsletter can obtain the reduced ticket price of £395 plus VAT, a saving of £55 off the full rate. Please email sarah@hotelanalyst.co.uk to register for this offer.

Along with 123Venture, Perseus Capital Partners (PCP) has acquired the 96-room Hôtel Franklin-Montreuil in Paris, France, for an undisclosed sum. The group intends to brand the independent hotel under an international franchise and reposition it in the market. The transaction follows PCP's purchase of the Hôtel Atlanta-Frochot in the French capital at the end of last year, which will be rebranded this year as Le Pigalle.
Spanish real estate company Hispania Activos Immobiliarios has purchased two hotels in Spain for €27.9 million: the three-star, 70-room Hesperia Ramblas in Barcelona, which is managed by Grupo Hesperia, and the four-star, 105-room Vincci Málaga in Málaga City, which is operated by Grupo Vincci. Following this deal, Hispania's investment has now reached €402 million. Along with office space and residential units, the group's portfolio contains six hotels across Spain.
Nordic chain Scandic has got together with AxFast the owner of the iconic PUB department store in Stockholm, Sweden, to transform the building into the Scandic Haymarket. PUB opened in 1882 and in the late nineteen hundreds the top four floors of the building were converted into the Rica Hotel. The interior space will now undergo a renovation in order to create the original "look and feel" of the building. the 16,500 m² Scandic Haymarket will have 400 guest rooms and 3,000 m² of food and beverage and meeting facilities. Scandic currently operates 19 hotels in the Swedish capital.
InterContinental Hotels Group has opened its sixth Crowne Plaza property in London. The Hotel Verta, which opened in 2010 as Von Essen's first London hotel and is now owned by Fabiano Hotels Ltd, has been rebranded as the Crowne Plaza London – Battersea. The 78-room hotel, on the south bank of the River Thames is adjacent to London Heliport.
The Hilton Paris Opera is now ready to welcome guests to the French capital. Formerly the Concorde Opéra Paris, the 268-room hotel was announced in December 2013 following Blackstone's purchase of the hotel from Starwood Capital in September 2013. Located in Paris' ninth arrondissement (the Opéra district), the hotel has emerged from a US$50 million refurbishment and joins three other Hilton-branded hotels in Paris: the Hilton Paris La Defense, the Hilton Paris Orly Airport and the Hilton Paris Charles De Gaulle Airport.
Hilton Worldwide has signed a franchise agreement with east England hotel operator Nightel for a Hampton by Hilton property at Humberside Airport in the county of Lincolnshire. The hotel is expected to cost £7 million to develop and is scheduled to open in mid-2016. "Humberside Airport is a vibrant passenger and cargo hub, and home to the second largest heliport in the UK," said Hilton's Patrick Fitzgibbon, senior vice president for development in Europe and Africa. "Hampton by Hilton Humberside Airport will appeal to passengers travelling through the airport, and alleviate the growing need for quality, economy hotel accommodation in the wider Humber region," he added.
Majorca-based Iberostar Hotels & Resorts has opened its first hotel in Madrid, Spain: the 103-room Iberostar Las Letras Gran Via. The hotel's six-storey building dates from 1917 and was recently restored. Iberostar has a presence in 13 countries across Europe and North and South America.
City Lodge Hotel Group opened the City Lodge Waterfall City in Johannesburg, South Africa. The 149-room hotel, which cost ZAR130 million (€9.8 million) to construct, is part of the Waterfall City mixed-use project and is the first hotel to open at the development. The South African group now has 55 hotels in operation across South Africa, Kenya and Botswana under its four brands and the City Lodge Waterfall City is its 16th City Lodge-branded property.
Accor reported a like-for-like rise in total revenue for 2014 of 3.8% to €5,454 million, and the group has revised its 2014 EBIT target upwards to around €600 million. Out of the EMEA region, the Mediterranean countries, the Middle East and Africa combined achieved the strongest revenue growth on 2013, with an 8.5% rise in revenue for the group's Hotellnvest business to €408 million and an 8.2% increase for HotelServices to €119 million. "The solid performance reflects the commitment of our teams, the strength of our brands, the trust we have built up with our guests and partners, and the vitality of our development," said Sébastien Bazin, Accor's chairman and chief executive officer. Accor opened 208 new hotels (29,556 rooms) over the course of 2014.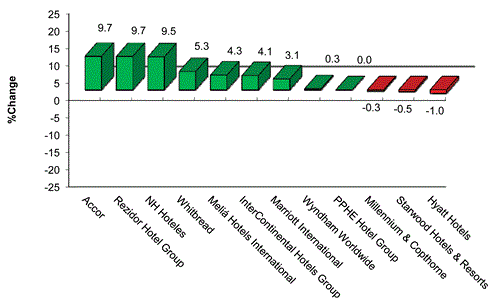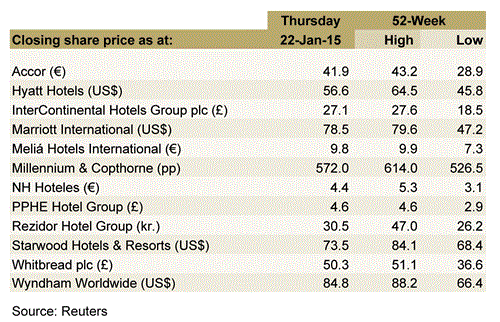 Accor – Robust demand in Europe and emerging markets gave a boost to revenue growth in the fourth quarter of 2014.
NH Hotels – UBS said on Thursday it was placing a 7.6% stake in NH owned by Intesa Sanpaolo.

InterContinental Hotels Group – Completed the purchase of boutique hotel operator Kimpton Hotels & Restaurants, in a deal worth US$430 million.
For the latest in the hospitality industry, please visit: http://www.hvs.com/. You are also welcome to contact the following personnel.
| | |
| --- | --- |
| Russell Kett, Chairman – HVS London (@russellkett) | rkett@hvs.com |
| Charles Human, CEO – HVS London/HVS Hodges Ward Elliott | chuman@hvshwe.com |
| Simon Tucker Brown, Managing Director – HVS Executive Search Europe & Middle East | stuckerbrown@hvs.com |
| Chris Martin, Senior Director – HVS Hodges Ward Elliott | cmartin@hvshwe.com |
| Puneet Kanuga, Director – HVS Hodges Ward Elliott | pkanuga@hvshwe.com |
| Arlett Oehmichen, Director – HVS London | aoehmichen@hvs.com |
| Sophie Perret, Director – HVS London | sperret@hvs.com |
| Tim Smith, Managing Partner – HVS Cape Town | tsmith@hvs.com |
| Demetris Spanos, Managing Director – HVS Athens | dspanos@hvs.com |
| Hala Matar Choufany, Managing Director – HVS Dubai | hchoufany@hvs.com |
| Ezio Poinelli, Director – HVS Milan | epoinelli@hvs.com |
| Louise Fury, Senior Editor and EMEA Hospitality Newsletter Author – HVS London | lfury@hvs.com |
Disclaimer: Information provided above has been gathered from various market sources. HVS has not independently verified the accuracy of the information provided. Interested parties should not rely on the information as statement of facts and are advised to make their own independent checks to verify the information provided. For further information, please feel free to contact HVS London.
Superior Results through Unrivaled Hospitality Intelligence. Everywhere.
Stay current. Click here to receive free HVS newsletters
Looking for insights into the hospitality industry?
Discover unique hospitality intelligence at hvs.com/publications
Interested in a particular market?
Find hundreds of market overviews, all written by HVS experts, at hvs.com/marketresearch
Like to be in the know on hotel trends and predictions?
See our Hotel Valuation Index for dozens of cities at hvi.hvs.com