HVS Hodges Ward Elliott is pleased to announce that, acting in cooperation with the owner and Hatfield Philips International, it has successfully arranged the sale of the 253-bedroom Kurhaus Hotel in The Hague to Amrath Hotels Group for €32.6 million. One of the most iconic hotels in the Netherlands, the Kurhaus served as collateral for a loan securitized in Titan Europe 2006-3 plc and the selling price represents a premium of over 35% to the last valuation reported to the noteholders. The hotel was previously operated under a management agreement by Steigenberger, which was terminated as part of the sale, and it has been rebranded as the Grand Hotel Amrath Kurhaus. The property is set to undergo a substantial investment programme to restore it to its former glory.
Marriott International is bringing its Autograph Collection brand to Barcelona for the first time. The Hotel Cotton House Barcelona is due to open in the Catalan capital on 23 February 2015 on Gran Vía. The 83-room hotel is housed in the former headquarters of the Association of Cotton Manufacturers, which was constructed in the late 19th century. Once open, the hotel will become Marriott's seventh Autograph Collection property in Spain and will increase Marriott's portfolio in Barcelona to 11 hotels.
Marriott International's lifestyle brand AC Hotels by Marriott has made its first appearance in Denmark, incorporating the 812-room Bella Sky Hotel in Copenhagen into its portfolio. Now the AC Hotel Bella Sky, the brand's latest opening follows its worldwide debut in the US and the recent inaugarations of the AC hotels in Istanbul, Turkey, and Valencia, Spain. The AC Hotel Bella Sky, a ten-minute metro journey from Copenhagen city centre, is operated by BC Hospitality Group under a franchise agrement.
After buying the 105-room Marks Hotel in Glasgow, Scotland, from Rossmark Hotels in October last year, Apex Hotels has anounced that it plans to invest £10.5 million in the property and, after closing it at the end of December 2014, plans to reopen it this June as the Apex City of Glasgow Hotel. Edinburgh-based Apex curretly has eight hotels across the UK but this new venture is its first property in Glasgow.
Japanese group Hotel Okura is to expand into Turkey. Okura aims to have five hotels in the country by 2020, in Istanbul, Ankara and other major Turkish cities. The group will hold a 4.4% stake in a joint venture it plans to form with Turkish companies; these local companies will operate the hotels, which are expected to open under the Okura or Nikko brands. The group currently has 47 hotels in Japan and 25 abroad; Okura aims to increase its overseas portfolio to 50 properties by 2020.
Al Rayyan Tourism and Investment (Artic) has acquired the 96-room Boscolo Aleph Hotel in central Rome, Italy, for an undisclosed sum. The six-storey hotel, which was developed in 2002 in one of the city's historic palaces, brings the group's portfolio up to 24 luxury properties across the EMEA region and North America. Artic's chairman, Sheikh Faisal Bin Quassim Al Thani, commented that the new addition is "a perfect fit with our long-term investment strategy and is a valuable addition to our portfolio which also expands our European footprint to Rome".

Kingdom Hotel Investments, a fully owned subsidiary of Kingdom Holding Company (KHC), recently sold its 100% interest in the Mövenpick Hotel & Apartments Bur Dubai, in the emirate of Dubai, to a UAE-based investor for US$95 million. The hotel, which has 255 guest rooms and 57 apartments, is close to Dubai's business district. "This transaction marks yet another success for KHC's value realization strategy from growth market investment," said Prince Alwaleed, KHC's chairman.

Accor has opened its first hotel under its Majilis Grand Mercure brand. The Abu Dhabi Majilis Grand Mercure Residence opened in the UAE capital this week with 190 units, two food and beverage oulets, a fitness centre and a spa, amongst other facilities. The group first released details about the Arabic-inspired brand in spring last year; it aims to attract Middle Eastern guests and overseas visitors looking to experience local cultures in the region.
Thailand-based Anantara Hotels & Resorts opened its first property in Qatar this week. The Banana Island Resort has been developed on a crescent-shaped island just off the coast of Doha, 20 minutes away from the city centre. The luxury resort has 141 rooms, suites and villas and also has its own 30-berth marina and a 400-metre-long private beach. The resort is also the first property in Qatar to offer fully over-water villas.
Abu Dhabi-based company Rotana recently made its debut in Jordan with the opening of the Boulevard Arjaan by Rotana in Amman. The 391-room aparthotel is part of the Boulevard mixed-use development, in the city's Abdali district, which also contains residential, entertainment and office space. The hotel is the 11th hotel to open under the Arjaan Hotel Apartments by Rotana brand.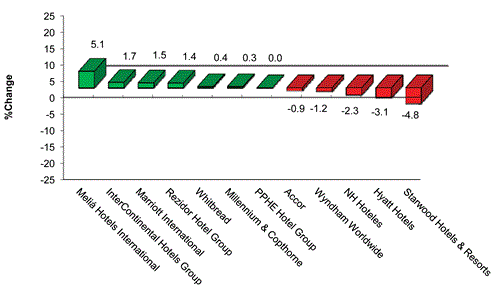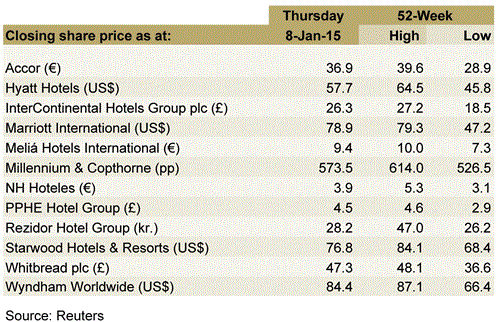 Marriott International – Announced that it will report its fourth-quarter 2014 earnings results on Wednesday 18 February 2015.
Accor – Is thought to be amongst the groups competing for Italian chain, UNA Hotels and Resorts.

Hyatt Hotels – Announced the appointment of Maryam Banikarim as the company's global chief marketing officer.
For the latest in the hospitality industry, please visit: http://www.hvs.com/. You are also welcome to contact the following personnel.
| | |
| --- | --- |
| Russell Kett, Chairman – HVS London (@russellkett) | rkett@hvs.com |
| Charles Human, CEO – HVS London/HVS Hodges Ward Elliott | chuman@hvshwe.com |
| Chris Martin, Senior Director – HVS Hodges Ward Elliott | cmartin@hvshwe.com |
| Puneet Kanuga, Director – HVS Hodges Ward Elliott | pkanuga@hvshwe.com |
| Arlett Oehmichen, Director – HVS London | aoehmichen@hvs.com |
| Sophie Perret, Director – HVS London | sperret@hvs.com |
| Tim Smith, Managing Partner – HVS Cape Town | tsmith@hvs.com |
| Demetris Spanos, Managing Director – HVS Athens | dspanos@hvs.com |
| Hala Matar Choufany, Managing Director – HVS Dubai | hchoufany@hvs.com |
| Ezio Poinelli, Director – HVS Milan | epoinelli@hvs.com |
| Louise Fury, Senior Editor and EMEA Hospitality Newsletter Author – HVS London | lfury@hvs.com |
Disclaimer: Information provided above has been gathered from various market sources. HVS has not independently verified the accuracy of the information provided. Interested parties should not rely on the information as statement of facts and are advised to make their own independent checks to verify the information provided. For further information, please feel free to contact HVS London.
Superior Results through Unrivaled Hospitality Intelligence. Everywhere.
Stay current. Click here to receive free HVS newsletters
Looking for insights into the hospitality industry?
Discover unique hospitality intelligence at hvs.com/publications
Interested in a particular market?
Find hundreds of market overviews, all written by HVS experts, at hvs.com/marketresearch
Like to be in the know on hotel trends and predictions?
See our Hotel Valuation Index for dozens of cities at hvi.hvs.com